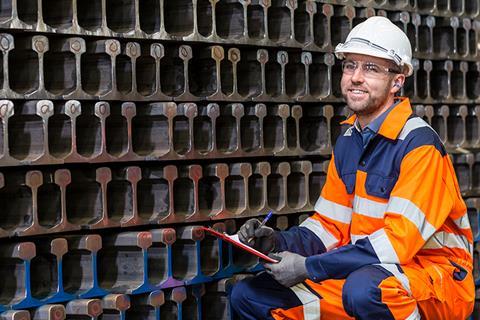 UK: British Steel and the University of Sheffield have announced a multi-million-pound research and development programme which will see steel tested at the university's Faculty of Engineering and the steelmaker's R&D facility at the Advanced Manufacturing Park in Rotherham.
British Steel is contributing £1·6m including staff time and materials, matched on a 2:1 basis by Research England's Research Partnership Investment Fund.
Investments include machinery which will be able to simulate wheel-rail contact under a variety of conditions, providing the ability to test new rails and sleepers more rapidly than could be achieved by trial installations on the network.
Engineers from the university have also built state-of-the-art grinding equipment using high-speed machining techniques from the aerospace industry that can be used to prepare rails before they are installed. This is being further developed to maintain existing lines more efficiently, with researchers looking at the use of 3D laser technology to monitor track and minimise the need for line closures.
'This partnership will help ensure British Steel continues to lead the way in developing and building the railways of the future', said British Steel CEO Ron Deelen. 'In a hugely competitive market, we're committed to enhancing our product range so we can keep meeting and exceeding the high standards operators and travellers rightly demand. Product development, integrity and innovation have never been as important, with major rail infrastructure programmes around the world, including HS2, requiring the high-quality products synonymous with the British Steel name.'