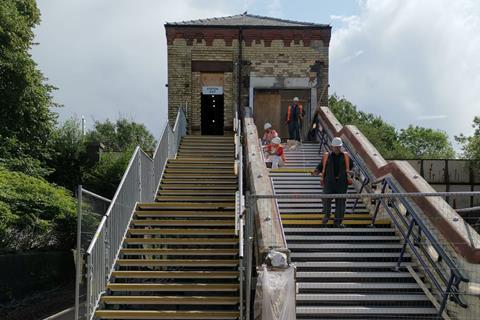 UK: Scaffolding contractor QED worked with public access staircase specialist UK System Scaffold Hire to ensure access to Moorside station in Greater Manchester was maintained while it was being refurbished.
The companies said the Haki Public Access Staircase offered a 70% reduction in erection time compared to other options, taking two scaffolders 12 h to assemble and 6 h to dismantle.
'The aesthetics of the HAKI PAS staircase were also of the highest standard: the temporary stairs mimicked the permanent stairway thus fitting within the confines of the station and maintaining station operations throughout and the stair landings where covered with non-slip GRP', said QED Operations Director Mike Ward.
'Our PAS system can be applied to any configuration, straight like this one, or spiral', added UKSSH Managing Director Gary Griffiths.