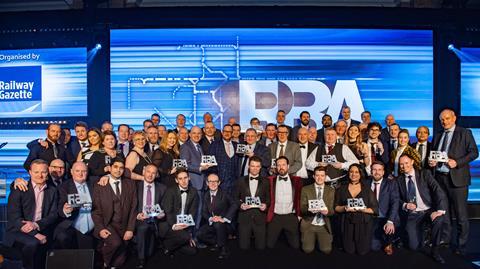 CELEBRATING EXCELLENCE: Entries for the 22nd annual Rail Business Awards close on Friday September 27, but a short extension to the deadline is available if you need a bit more time to perfect your submission.
The Rail Business Awards were established to recognise and reward excellence in all aspects of the UK rail sector, as well as celebrating the success of individuals and teams behind the headlines.
This year there are 19 awards on offer, ranging from projects and innovation and customer service to sustainability and operations, as well as many personal achievements. Who will walk away with the prestigious accolade of Rail Business of the Year?
The winners will be announced at a gala dinner evening at London's Royal Lancaster Hotel on Thursday February 27.
RBA 2020 award categories
Young Professional of the Year
Rail Team of the Year
Lifetime Achievement Award
Industry Leader of the Year
Diversity in Rail Award
Education & Training Excellence
Digital Technology Excellence
Infrastructure Project Excellence
Rolling Stock Excellence
Innovation of the Year
Asset Management & Maintenance Excellence
Supplier & Contractor Excellence
Sustainability & Environmental Excellence
Marketing & Communications Excellence
Customer Service Excellence
Safety & Security Excellence
Rail Freight & Logistics Excellence
Train Operator of the Year
Rail Business of the Year
To find out more about the awards and how to make a submission visit: www.railbusinessawards.com
To request an extension to the submission deadline, please complete the online application form.