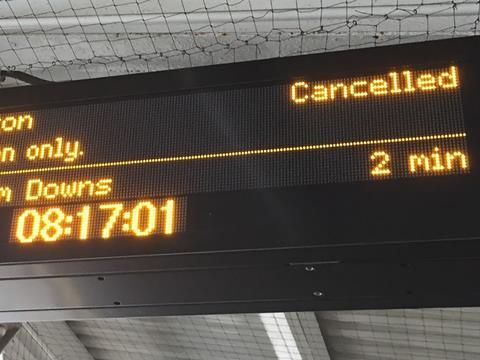 UK: The Office of Rail & Road announced on October 5 that it had opened an investigation into whether Thameslink Southern & Great Northern franchisee Govia Thameslink Railway and Arriva's Northern had breached its requirements to do everything reasonably practicable to provide appropriate, accurate and timely information to their passengers in the run-up to the May 2018 timetable change and during the disruption that followed.
In September ORR's inquiry into what went wrong with the timetable change identified concerns about the information provided to passengers who used the two operators' services.
Condition 4 of the Statement of National Regulatory Provisions requires train companies to provide 'appropriate, accurate and timely information to enable railway passengers and prospective passengers to plan and make their journeys with a reasonable degree of assurance, including when there is disruption.'
ORR will use evidence gathered from its current monitoring and inquiry and any further information provided in the course of the investigation. The regulator has written to GTR and Northern for their responses and aims to conclude its investigation before the end of November.
If ORR finds the companies in breach of their licence obligations, this could result in enforcement action such as a financial penalty.
Anthony Smith, Chief Executive of the independent watchdog Transport Focus, said passengers were 'badly let down when new timetables descended into chaos', and it was 'only right that the regulator investigates if these companies breached the passenger information obligations in their licence.'