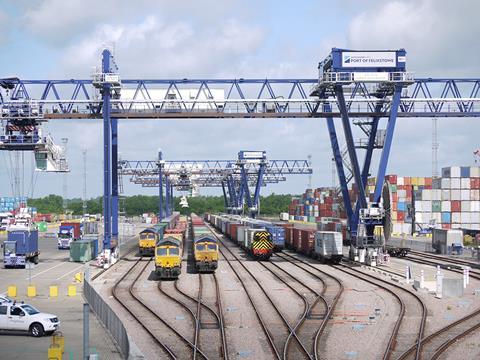 UK: The Rail Freight Group has published the What level of ambition is achievable and worthwhile for rail freight? report, which suggests that an 'ambitious' growth strategy for rail freight supported by a new approach from government could generate between £75bn-£90bn in environmental and economic benefits over the coming decade.
The report was produced by Stephen Joseph Associates, a consultancy set up by the former Chief Executive of the Campaign for Better Transport, and is based on a review of existing literature.
It says unlocking potential rail freight growth would require:
accelerated investment in the Strategic Freight Network to increase capacity and improve train efficiencies;
a rolling programme of electrification to further improve environmental benefits;
promotion of new rail-linked multi-modal distribution parks, with reform of planning law to support greater use of rail;
investment and support for new rail freight services including high speed freight to city centres;
increased grants and discounted access charge to encourage uptake;
'mainstreaming' rail freight in transport and industrial policy;
road pricing for lorries to support modal shift.
'With renewed focus on the environment, and with new trade opportunities on the horizon, there has never been a better time to invest in rail freight', said RFG Director General Maggie Simpson on September 23. 'This report shows how a strategic and targeted programme from government could encourage new private investment and unlock very significant benefits for the country.'