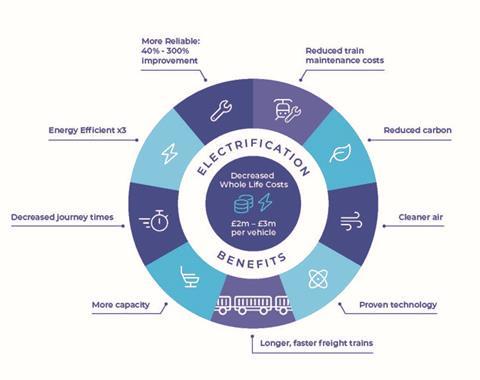 UK: A paper setting out the key benefits of electrification has been published by the Railway Industry Association.
Rail Electrification: The Facts says:
over the life of a train an electric railway is the cheapest to operate, even factoring in electrification construction costs;
electric trains are 40%-300% more reliable than diesel;
electric trains are three times more efficient than diesel or hydrogen trains, reducing energy demand;
electric trains accelerate more quickly, allowing more trains and capacity on a route;
electric freight trains can be faster and longer, taking more lorries off our roads and increasing passenger capacity.
'An electric railway is the most efficient method for transporting passengers and freight, ultimately resulting in long-term reduced operational costs', said co-author and Furrer+Frey director Noel Dolphin on March 31.
'Not only does this contribute to our critical goal of decarbonisation, but it also paves the way for a superior railway experience that is more reliable, cost-effective, and able to accommodate increased capacity.'
The paper has been published a few weeks after the launch of RIA's RailDecarb23 campaign, which calls on the government to take action to enable the industry to remove all diesel-only trains from the network by 2040 and reach Net Zero by 2050.
'While faster decarbonisation is one of the key advantages of electrification, it's far from the only benefit', said RIA Technical Director David Clarke. 'As this new paper outlines, electrification improves the railway in a myriad of other ways, including increased reliability, reduced costs and better journey times — to name just a few.'
Websites
We are not responsible for the content of external sites