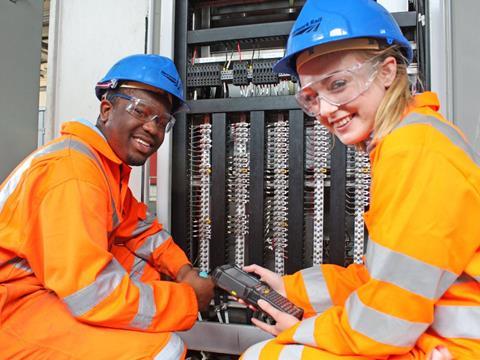 UK: The Routes into Rail website which was launched to help address the sector's skills gap and workforce shortfall has been relaunched, targeting school leavers, graduates, parents, careers advisers and people leaving the military.
Routes into Rail is a sector-wide initiative launched in 2020 to be the first point of contact for information on rail careers.
It is managed by the National Skills Academy for Rail and backed by Network Rail, the Department for Business, Energy & Industrial Strategy and industry partners Amey, HS2 Ltd, the Railway Industry Association and VolkerRail.
NSAR estimates that the UK rail industry will require an additional 5 700 people each year in 2024-28.
'Rail is transitioning into a modern, people-centred and technologically driven industry', said Amit Kotecha, Senior Campaigns Manager at Network Rail, on April 27. 'As an industry, we must attract new talent bringing new ideas and the people to deliver them. However, rail must compete against other sectors to attract new talent and that's why Network Rail is backing Routes into Rail to showcase rail as a smart career choice.'
Websites
We are not responsible for the content of external sites