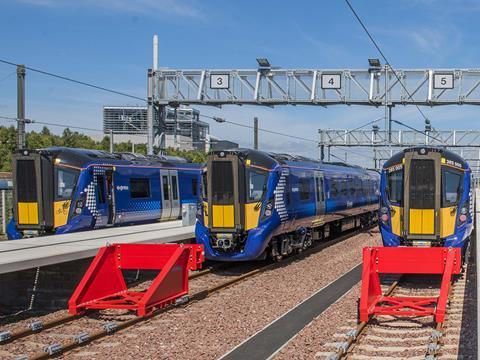 UK: ScotRail is to launch a mobile ticketing pilot scheme which will enable passengers to buy, store and use tickets directly from a smartphone app, removing the need for paper tickets or smart cards.
Developed by the Nevis Technologies joint venture of transport authority Strathclyde Partnership for Transport and payment technology company Rambus, the app will use the Rambus HCE Ticket Wallet Service. This creates a virtual smart card on the mobile device, where tickets are stored and then activated via NFC when presented to a validator. This complies with the ITSO smart card standard, and so can be used with existing smart ticketing infrastructure and software, allowing operators to manage smart card and mobile tickets through a single system.
The ticket is displayed as an on-screen image with the origin, destination and date of travel found on a paper ticket. A 'ticker tape' will indicate that it is valid for travel.
Phased rollout is planned over the coming months, ScotRail said on July 30, starting with selected users. The app would initially sell single and day return tickets, which make up more than 60% of ScotRail sales.
'This pilot app delivers the convenient, easy access to tickets and travel that we know our customers want', said ScotRail Commercial Director Lesley Kane. 'Over the coming months, customers will be able to buy and download digital tickets from a single app, anytime, anywhere.'
Rambus said operators and passengers are increasingly expecting to be able to use smart phones for ticket fulfilment, which provides greater convenience for users as they do not have to obtain a smart card.
'Delivering a modern and innovative transport experience that customers can rely on is a key driver for smart mobile ticketing', said Russell McCullagh, Vice-President and General Manager of Rambus Ticketing.
Virgin Trains has introduced digital weekly season tickets valid for travel between Manchester and Stoke-on-Trent on its own services. Expansion to cover monthly and annual season tickets across all Virgin Trains routes in planned, and the operator aims to fulfil 50% of ticket sales through its own channels in digital format by April 2019, up from 43% at present.