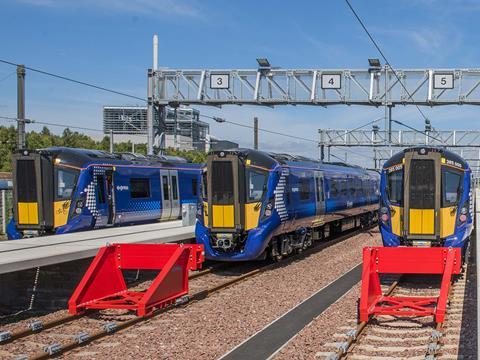 UK: The Scottish government has extended its funding for the ScotRail and Caledonian Sleeper franchises, following on from the six-month Emergency Measures Agreement introduced in April 2020, which was due to expire on September 20.
Announcing on September 18 an extension to January 10 2021, the Scottish government noted that 'unlike many transport operators across the world, ScotRail has not placed a single member of its 5 200 staff on furlough or cut any permanent roles as a result of the pandemic. There have been no changes to the wages or terms and conditions of staff.' It explained that the extension was necessary as ScotRail's passenger numbers remained significantly reduced, year-on-year, due to the ongoing Covid-19 restrictions, including an instruction for people to work from home where possible.
'The agreement provides value for money for the Scottish taxpayer, as the level of support given by the government reduces in line with any increase in revenue ScotRail generates', it explained. 'While passenger numbers remain 70% down, the number of services operated by ScotRail has returned to close to pre-pandemic levels.' The Scottish government had repeatedly expressed an aspiration to take ScotRail under direct control, and its latest statement emphasised that 'discussions on a longer-term agreement beyond January 10 2021 are due to begin imminently'.
Scotland's Cabinet Secretary for Transport, Infrastructure, & Connectivity, Michael Matheson MSP, explained that 'following extensive discussions with Abellio ScotRail and Serco Caledonian Sleeper we have put in place these further Emergency Measures Agreements to cover operating costs because of severely reduced revenues. Given the extremely challenging budgetary position and the current uncertainty as to consequentials from the UK government, the agreements will be in place until January 2021. This will ensure rail services continue and provide stability for employees, passengers and suppliers at a time of unprecedented uncertainty. We will commence discussions immediately with both operators to seek to agree a longer-term plan for our contractual arrangements after January 2021.'
Welcoming the EMA announcement, ScotRail Chief Operating Officer Alex White, said 'extending this essential government support scheme is a major boost for ScotRail staff, who have worked tirelessly to keep people moving during the recent critical months. We'll continue to work closely with the Scottish government to secure a longer-term agreement that provides further job security for our staff, value for money for the taxpayer, and a safe and reliable service for our customers.'