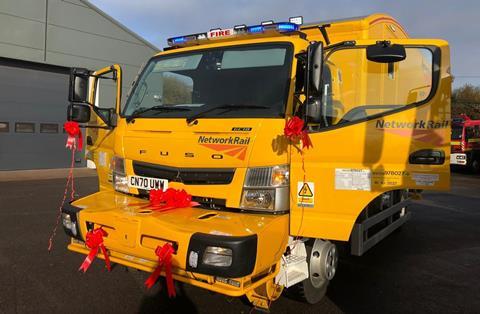 UK: Network Rail has developed and funded two dedicated Mitsubishi Canter road-rail vehicles which firefighters and ambulance crews in England and Wales will be able use to reach emergencies in the Severn Tunnel.
'These vehicles will allow for a faster and more effective multi-agency emergency response', said Network Rail Project Manager Robyn MacNamara. 'The Severn Tunnel is around 7 km long, so when an emergency incident happens, quick access for emergency services is vital. That is why we have developed this bespoke vehicle which has dedicated provisions for both firefighters and ambulance crews onboard.'
Network Rail and supplier GOS Tool & Engineering developed the design with South Wales Fire & Rescue Service, Avon & Somerset Fire & Rescue Service, Welsh Ambulance Service Trust and South Western Ambulance Service.
The first of the 7·25 tonne vehicles was handed over on November 12 and is housed at Maindee fire station in Newport. A second vehicle will be given to Avon & Somerset Fire & Rescue Service later this month.