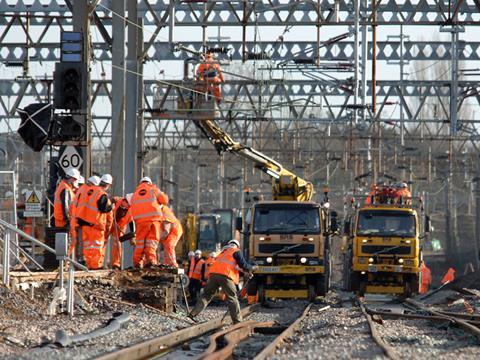 UK: The Railway Industry Association has launched a 'Show Us the Rail Enhancements' campaign, calling on the government to publish its list of planned large projects such as electrification and the provision of additional tracks.
RIA represents more than 290 businesses across the supply chain. 'The rail industry desperately needs to know what enhancements are planned', said Chief Executive Darren Caplan when the SURE campaign was launched on September 4.
'We have been calling on the Department for Transport since late 2017 to set out its plans, and they have still not done so, despite the government's guidance, published just a few months ago, that every government department should be open about its commercial procurement pipelines so that suppliers can plan for forthcoming projects.'
The government adopted a 'pipeline' approach to decision-making for large scale enhancements with the start of the current five-year funding cycle in April 2019. RIA is concerned that the way that individual projects progress through various stages before coming to market does not enable the supply chain to plan for upcoming work. At present there are no construction-ready schemes in the pipeline, other than those from the previous period, it said.
'Suppliers clearly need visibility of upcoming rail upgrades in order to deliver effectively', said Caplin. 'Not publishing shovel-ready projects in the pipeline means investment is reduced, jobs are lower than they otherwise would be, and upgrades become more expensive as the industry takes time to gear up for individual schemes.'