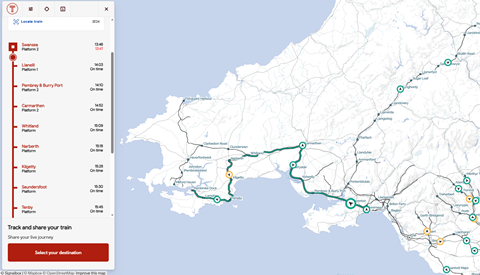 UK: Transport for Wales Rail has worked with technology company Signalbox to develop a live digital map showing the location of all its trains, enabling passengers to view their journey in real time and see expected arrival times at each station.
Signalbox currently uses live data to estimate the location of trains as they pass defined location points on the tracks. Each train is colour coded depending on whether it is running on time, slightly delayed or delayed by more than 10 min. Users can also see what that delay might mean for arrival times at stations further down the line.
The map can detect the train a smartphone user is on, enabling them to share their live arrival time with friends and family or search for any other train.
Later this year, the technology will begin to incorporate GPS data from trains to improve accuracy.
'We know that travellers are reassured by seeing the progress of their journey in real time on a map, and find it useful to share with friends and family', said Signalbox founder Toby Webb on August 2.
'Until now, rail has lagged behind other industries in offering interactive live maps for its passengers. So it's been exciting to work with Transport for Wales to deliver this new tool that incorporates the best bits of Signalbox technology to detect, map and share trains in Wales.'