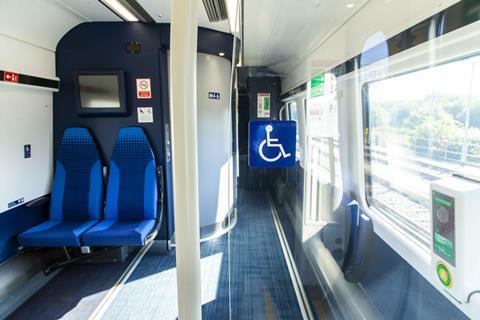 UK: Independent pan-disability body the Northern Accessibility User Group has selected six projects to share funding from Northern's £250 000 Accessibility Innovation Fund.
South Yorkshire Mayoral Combined Authority will create an Accessibility Hub at the Meadowhall transport interchange in Sheffield. Working with TransPennine Express, this will provide loaned mobility scooters and wheelchairs to encourage older and disabled customers to use rail to get to and from the Meadowhall shopping centre;
BSL interpretation of customer information announcements using AI will be trialled at Manchester Victoria station.
the Cumbrian Coast Line Community Rail Partnership will create user-friendly display panels and leaflets to promote active and accessible travel along the line, benefiting older and disabled people who may struggle with digital signage;
Community Rail Lancashire's Adventures for All programme of engagement for autistic passengers will include interactive and accessible activities designed to encourage rail confidence and connect with people and places along the Autism Friendly Line;
Community Rail Cumbria's Soulful Days Out initiative will focus on engaging older communities such as Age UK to take days out on the train;
Chrome Angel Solutions' Accessible Travel VR Simulation aims to expand on the existing VR simulation game, enabling staff to practice providing good assistance to customers who need it.
'The fund has again produced a wide range of ideas aimed at improving accessibility of rail travel across Northern's network', said NAUG Chair Mark Wilson when the recipients were announced on May 3.
'What has been so impressive is the enthusiasm and commitment around schemes that help encourage older and disabled people to try the train for the first time, or to return to rail travel. When added to an inspiring focus on supporting those with less visible and sensory disabilities, we have a cracking set of awards that will continue to build passenger confidence.'