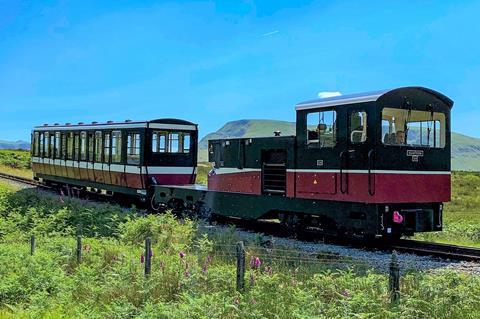 UK: The Snowdon Mountain Railway has taken delivery of two 800 mm gauge diesel-battery hybrid Abt rack locomotives ordered last year from Clayton Equipment, which specialises in the production of bespoke designs for specialist railway, metro, mining and tunnelling applications.
Thanks to the hybrid drive, the new locos are intended to produce significantly lower emissions than the railway's existing diesel locomotives. The diesel generator will be switched off on the downhill runs, with regenerated braking energy used to recharge the battery to provide power for next ascent.
The hybrid package also means the EU Stage V compliant engines can be less powerful than the engines on the existing locos, providing significant maintenance and fuel savings, as well as quieter operation.
The railway will continue to operate its heritage steam locomotives, although all services in the 2020 season will be diesel operated as a result of the coronavirus restrictions.
The £1·1m order was financed by HSBC Equipment Finance UK. 'It's not every day you get to be involved in a special project like this, so we're delighted to play our part in ensuring the future of such an iconic national tourist attraction', said the group's Corporate Relationship Director Jon Higginson on July 7.
SMR is expected to open for the 2020 season on July 10 following an easing of the Welsh government's coronavirus restrictions. The railway has made internal adjustments to its coaches to provide segregation between compartments, which will accommodate a reduced number of passengers. Services will terminate at Clogwyn, three-quarters of the way to the top of the mountain, because of the difficulty of implementing social distancing measures within the station/café building at the summit.