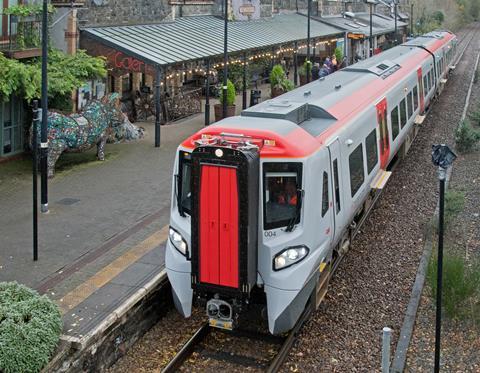 UK: The first of the 77-strong fleet of Class 197 diesel multiple-units entered service with Transport for Wales Rail on November 14.
Without any pre-announcement or ceremony, unit 197 004 carried its first passengers on the 05.30 from Llandudno Junction to Blaenau Ffestiniog, spending the rest of the day operating on the route. A formal launch is expected to be held early in the new year.
Built by CAF at its Newport facility in South Wales, the units have been dubbed 'Made in Wales for the people of Wales'. The selection of the Blaenau Ffestiniog route for the fleet debut is understood to reflect a political desire for the first service to operate entirely in Wales.
On the first day, a damp morning and untreated railhead conditions on the steep route meant that high levels of sanding were required to avoid slipping. This resulted in an additional supply of sand being dispatched from Chester depot to top-up the unit's sandboxes part way through the day.
Four variants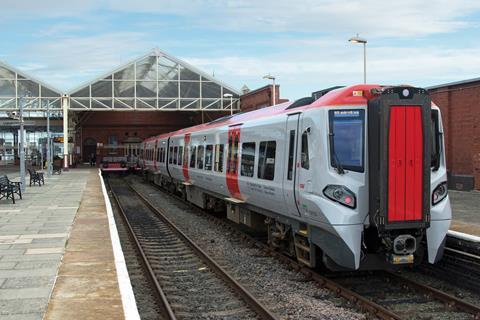 CAF is producing four variants of the Class 197. There will be 51 two-car sets with 116 seats, including a sub-fleet of 21 equipped with ETCS for operation on the Cambrian lines from Shrewsbury to Aberystwyth and Pwllheli. There will also be 12 three-car all-standard class units with 188 seats and 14 three-car sets with 158 standard and 16 first class seats for long-distance services.
Each vehicle is powered by a Rolls-Royce MTU 6H 1800 R85L 12·8 litre six-cylinder turbocharged diesel engine rated at 390 kW, driving through a ZF EcoLife hydromechanical transmission and ZF final drive gearboxes. Each car has one powered and one unpowered bogie, and the units have a maximum speed of 160 km/h.
Maintenance will be undertaken by CAF under an 11-year contract. The Class 197s will be principally based at Chester depot which transferred to CAF on June 1. Light maintenance will also be carried out at Cardiff Canton and at Machynlleth where the 21 ETCS-equipped sets will be based.
Class 175 future uncertain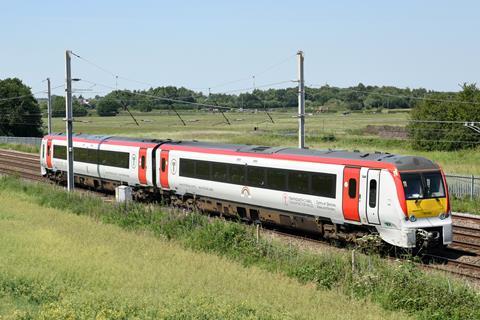 CAF is also maintaining the existing Alstom Class 175 DMUs at Chester under a train services agreement with TfW Rail.
The Class 175s are due be withdrawn progressively from spring 2023 as sufficient Class 197s become available for service; it is hoped that all 27 will have been replaced by the end of May.
Their future remains unclear, as despite the highly regarded passenger environment it is understood that the units dating from 1999-2001 are showing high levels of corrosion and extensive remedial work would be required if the fleet were to find a new life with a different operator.