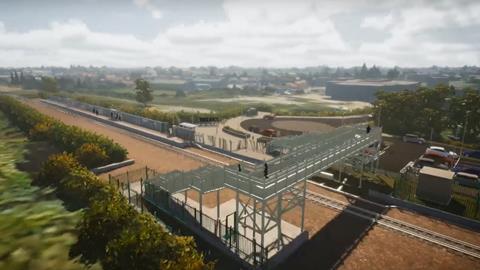 UK: Network Rail has applied to East Cambridgeshire District Council for permitted development rights to build a station at Soham on the Ely – Newmarket line. The previous Soham station closed in 1965.
Subject to gaining consent, as well as the Covid-19 situation, construction is expected to begin later this year for completion in spring 2022.
To be built on Network Rail owned land, the station would have a single 102 m long platform able to accommodate four-car trains, together with waiting shelters, lighting, ticket vending machines, information screens and a public address system. A stepped footbridge would connect to an existing public right of way with provision for the future installation of lifts to serve a potential second platform. There would also be road access to a drop-off point and a car park with space for 50 vehicles and cycle parking.
The application submitted on May 1 follows the announcement in September 2019 of a £18·6m funding package from the Cambridgeshire & Peterborough Combined Authority.
'Cutting through the endless delay has been a priority for the Combined Authority and it will be until the first passenger boards the first train', said Cambridgeshire & Peterborough Mayor James Palmer on May 4. 'We're here to deliver growth and this station will supercharge the whole local economy, reducing pressure and pollution on the A142, improving connections to Ely, Bury St Edmunds and beyond, giving residents wider access to jobs as well as opening Soham for business and tourism, and attracting further investment. We're funding this project and I will keep pushing for the earliest possible delivery.'