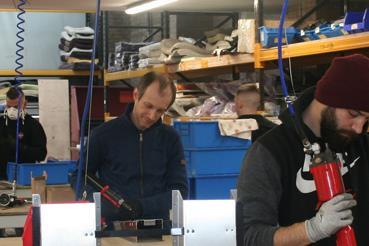 UK: Train interior manufacturer Solo Rail Solutions has entered into a collaborative project with the Manufacturing Technology Centre, which specialises in digital and additive manufacturing, intelligent automation and robotics.
Solo is working with MTC as part of the government's SME Reach project. It will focus on streamlining processes to achieve increased productivity on train seat projects with the tracking of critical production stages.
The company has recently won an order to supply interior components including side and centre ceilings for the AT300 electric trainsets which FirstGroup has ordered from Hitachi for its planned London – Edinburgh open access service.
Solo has also been commissioned to design and supply a range of door panels for equipment in the cabs of gangwayed multiple-units; it is currently supplying cab back wall kits including fire barriers, cab doors and trim panels.
The seating division is working on projects for clients including Transport for London, Gemini Rail, Alstom and West Midlands Railway.