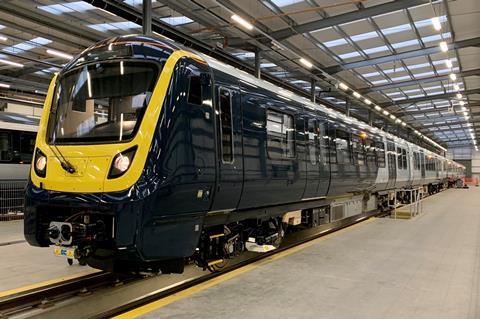 UK: The first Class 701 Aventra electric multiple-unit for South Western Railway's commuter routes from London Waterloo was unveiled at Bombardier Transportation's Derby factory on November 15.
'The new Class 701 trains will transform journeys for our customers with benefits including onboard wi-fi, at-seat charging points, real-time information screens, air-conditioning, wide gangways and wide doors to improve the ease of boarding and alighting', said SWR Engineering Director Neil Drury.
Capable of 160 km/h operation, the EMUs will be equipped for regenerative braking and fitted with AWS/TPWS as well as ETCS. Unlike the existing suburban units inherited by SWR, they will be fitted with toilets.
Five and 10-car sets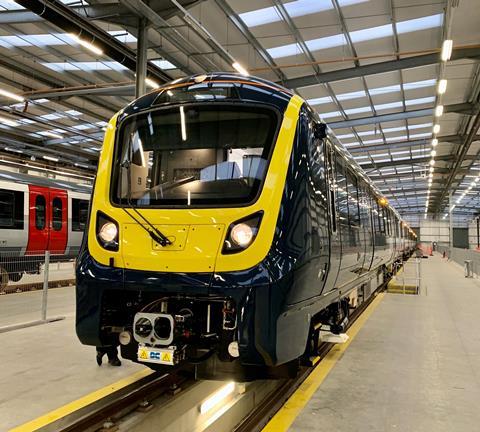 The £895m contract for Bombardier to supply a total of 750 cars was announced by SWR's parent companies FirstGroup and MTR Corp in June 2017. The order is financed by leasing company Rock Rail and partners SL Capital and GLIL Infrastructure, with debt provided by a consortium of UK, European and North American institutional investors.
The vehicles will be formed as 60 10-car Class 701/0 units able to carry 556 seated and 746 standing passengers, and 30 five-car Class 701/5 units with capacity for 274 seated and 361 standing passengers. The cars are nominally 20 m long, with doors at 1/3 and 2/3 spacings.
Bombardier said the 'British-designed and British-built' trains would be more reliable than the existing stock. They will be maintained at Wimbledon depot, with servicing at Feltham sidings. The 10-car units can be split unto five-car portions for depot moves.
Entry into service on SWR's Windsor, Reading and west London suburban routes has been delayed from mid-2019 to mid-2020, because the manufacturer required more time to complete software development.
Bombardier has so far completed 20 cars for SWR. One Class 701 unit is being prepared for testing at the Velim circuit in the Czech Republic, and three more are being built for testing on Bombardier's own track in Derby and at other UK locations.
While the EMUs are only intended to operate on 750 V DC third-rail routes, three are being built as dual-system units for testing. These will be equipped to operate from 25 kV 50 Hz and fitted with retractable shoe gear.
Aventra production
Bombardier has won orders for the Aventra family worth more than €4bn.
Production of inner-suburban units for the Elizabeth Line and London Overground is nearing completion, while production of outer-suburban units for Greater Anglia is ramping up. A second production line dedicated to the SWR fleet was commissioned this month, the sixth line at Derby. Units for West Midlands Trains and c2c will be the next in the production sequence.