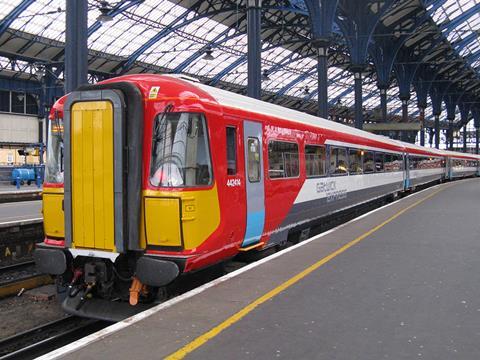 UK: The Office of Rail & Road has rejected Alliance Rail Holdings' application for track access rights which would enable it to launch an open access passenger service between London Waterloo and Southampton Central.
Arriva subsidiary Alliance had applied to operate nine trains each way per day under the Grand Southern brand, calling at Wimbledon, Hook, Basingstoke, Winchester and Eastleigh.
Announcing its decision to the reject the application on August 1, ORR said the ex-British Rail Class 442 electric multiple-units which Alliance had hoped to use were no longer available, and the would-be operator had no developed proposal for alternative stock which would enable it to launch the service if the application were approved.
Infrastructure manager Network Rail had said capacity was 'technically' available for the proposed services, and ORR believed that there would have been some passenger benefits from competition with franchised operator South Western Railway. However, ORR was not convinced that the benefits outweighed the risk that the additional services might impact on performance on the South Western Main Line.
ORR has a policy of not approving applications for open access services which would generate less than £0·30 of new revenue for every £1 abstracted from an incumbent's revenue. Economic modelling undertaken for Alliance by AECOM had suggested a ratio of 0·55:1 for the proposed service, but following work by an independent consultant ORR concluded that the ratio would be between 0·17:1 and 0·22:1, thus failing the 'not primarily abstractive' test.
ORR said Alliance would be able to subject a revised application once suitable rolling stock had been identified. It would also need to provide an evidence-based assessment of the performance impact and a revised revenue abstraction test.
Chris Hanks, Head of Development at Alliance, told Railway Gazette International he was 'disappointed' by ORR's decision, which was a 'significant setback' to the Grand Southern proposal. He said some of the issues raised could not have been anticipated when the application was submitted in 2016. Suitable rolling stock had now been identified, he said, and Alliance would now consider how to reshape its proposals in the light of ORR's comments.
In the meantime, Alliance is focusing on its plans to launch a London Euston – Blackpool North open access service at the end of 2019, having been granted access rights for this by ORR in June.