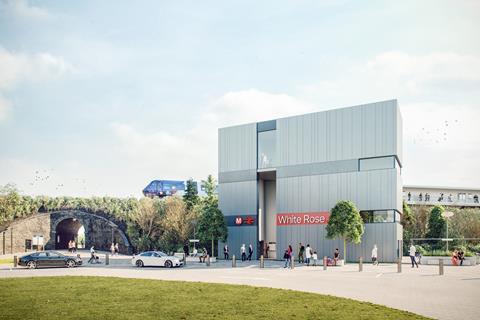 UK: Spencer Group is using the Department for Transport and Network Rail's Swift, Pragmatic & Efficient Enhancement Delivery principles in the construction of a £26·5m station which will provide access to the White Rose office park, shopping centre and bus interchange in south Leeds.
The two-platform White Rose station between Morley and Cottingley on the trans-Pennine route via Huddersfield is scheduled to open in spring 2023.
Spencer Group is undertaking the project for property management company Munroe K in conjunction with Network Rail, West Yorkshire Combined Authority, Leeds City Council and the Department for Transport.
An Early Contractor Involvement period aimed to make the process more efficient. 'We are involved in the continuous development of the proposals through ECI engagement, allowing us to apply the principles of SPEED in order to ensure the final design is deliverable and represents the most economical solution to meet our client's requirements', said Simon Bethell, Pre-Construction Director (Rail) at Spencer Group, on April 20.
Operations Director Joe Bennett said 'our in-house design capability enables us to work closely with our client Munroe K, Network Rail and other stakeholders to ensure consideration is given at an early stage to all critical aspects that may impede performance. This ensures we deliver on time and to budget.'
The project has received funding from the Leeds City Region Transforming Cities Fund, the Leeds Public Transport Investment Programme and £5m from the Department for Transport's New Stations Fund, alongside contributions from Munroe K.