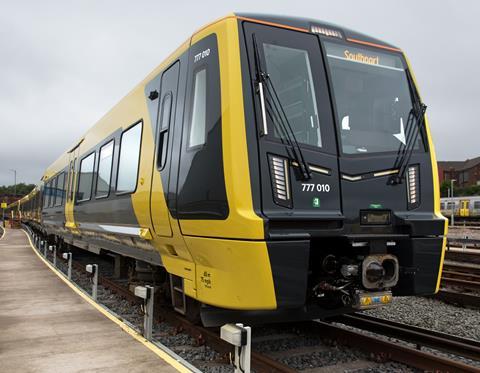 UK: The first of 53 Class 777 EMUs which Stadler is manufacturing for Merseyrail services has been formally handed over to Merseytravel, which will own the fleet on behalf of the Liverpool City Region Combined Authority.
The handover follows intensive testing in Germany and on the Merseyrail network, and authorisation from the Office of Rail & Road.
More than 100 different tests have been conducted to ensure that the trains meet UK and European safety standards. Daytime test running on the Merseyrail network began on July 1 with set 777 010, the first to be accepted, running alongside service trains between Sandhills and Southport. For the initial four units the target is 1 500 miles of fault-free running. The next four sets must complete 1 000 miles without a problem and the remainder of the fleet will have a fault-free target of 500 miles prior to acceptance.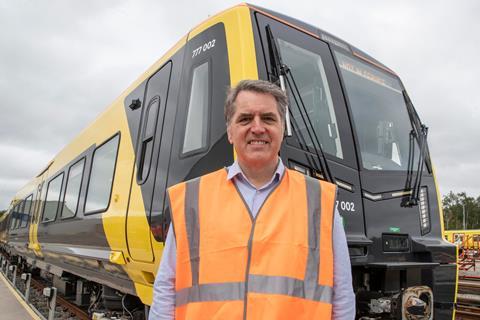 'These new trains are a near half a billion pound investment in our region's transport network and will transform the way people get around in our region', said Steve Rotheram, Mayor of the Liverpool City Region. 'They're a major part of my vision for a London-style transport system that will make getting around quick, cheap and reliable. They will be the greenest and most accessible trains in the country and, best of all they're owned by us. We've designed them around the needs of local residents, who I'm sure will all absolutely love them.'
Battery power
The 750 V DC third rail units are designed with provision for modification to also work on a 25 kV 50 Hz overhead supply. The option to modify some sets to work on battery power is now being explored, with set 777 002 having been fitted with lithium-titanate-oxide batteries and a traction converter in the space that would be occupied by a transformer and other AC equipment.
Battery power would be used for sets working between Kirkby and the station which is currently being constructed at Headbolt Lane. This is a distance of little over a mile, and will enable Merseytravel to evaluate battery power as it seeks to extend operations to Wrexham and as far as Preston, and on as a proposed new link from the Liverpool – Kirkby line to Skelmersdale.
Entry into service
An agreement over how the EMUs will be worked is still to be concluded with the RMT and ASLEF trade unions. Because of this Merseytravel is currently unable to give a clear indication of when they will enter service, although it says that at least seven sets will be need to have been accepted to enable driver training to continue as well as having enough trains to cover a number of diagrams with some resilience.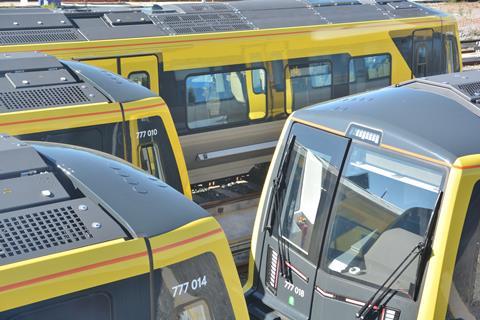 An enhancement of the 750 V DC power supply is due to be completed before the end of 2021, which is critical because the voltage on some sections of the network furthest from feeder points is too low for the new trains to operate.
Alterations to the infrastructure, particularly the positioning of signals to improve sight-lines for drivers that will allow the four-car sets to work in pairs, is also to be completed before double sets can be used in passenger service. Being undertaken by Network Rail, this work is subject to a significant delay, although the drop in passenger numbers because of Covid also means it is now less urgent for pairs of trains to be deployed.