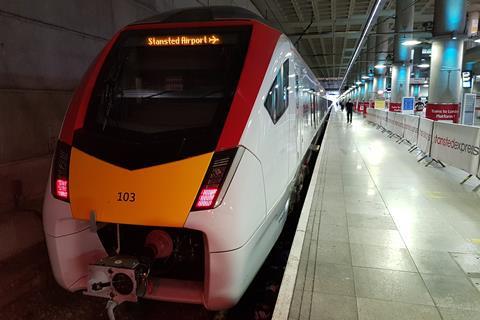 UK: The first two of the 10 Stadler Flirt Class 745/1 electric multiple-units ordered for Greater Anglia's Stansted Express service entered passenger service on the route between London Liverpool Street and Stansted Airport on July 28.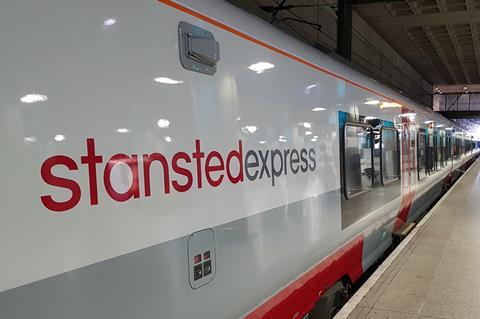 'This milestone marks the start of the final phase of the programme to introduce the new trains being built for us by Stadler', said Greater Anglia Franchise & Programmes Director Ian McConnell. 'All 38 bimode regional trains and 10 electric inter-city trains are already in passenger service. Over the next six to nine months we will replace all the current trains on the Stansted Express services with new trains, as part of our phased programme for bringing our new trains into service. As we do so, we will be able to progressively transfer the current Stansted Express trains on to other West Anglia services, enabling some of the older trains to be withdrawn from service. This means many more passengers start to see the benefits of better trains, in advance of the introduction of our new commuter trains on West Anglia services, which is expected to begin in the latter half of 2021.'
The £600m order for Stadler to supply a total of 378 Flirt multiple-unit cars for the East Anglia franchise was signed by Abellio UK and leasing company Rock Rail on October 4 2016. It is being financed by the Rock Rail East Anglia joint venture of Rock Rail, Aberdeen Standard Investments and GLIL Infrastructure.
The 25 kV 50 Hz Class 745/1 trainsets for the Stansted Express airport services are technically similar to the 10 Class 745/0 units ordered for the London – Norwich inter-city route, but are standard class only and have additional luggage racks but no buffet.
Each trainset has 767 seats, with plug and USB sockets, free wi-fi and passenger information screens. Accessibility features include a lower floor than older trains, with a retractable step at every door to bridge the gap between the train and platform.