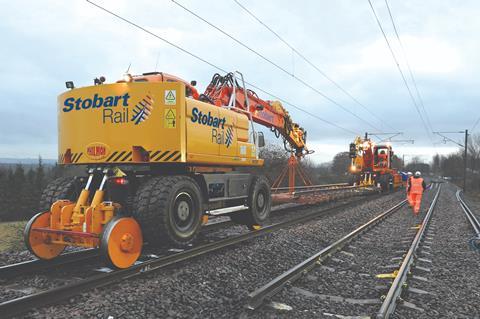 UK: Stobart Group Ltd has sold its Stobart Rail & Civils plant hire and civil engineering business to Bavaria Industries Group, a München-based family holding company that acquires majority interests in companies where it believes there is potential for improvement.
A total of 188 employees transferred as part of the July 14 transaction, along with the specialist plant and equipment.
Bavaria has paid £1 000 in cash, and an additional consideration of up to £2·9m may be paid based on the outcome of a single legacy contract. The transaction is on a debt-free basis including the waiver of intercompany balances, and will result in an estimated loss on disposal of £9m for Stobart Group, before any additional consideration.
'In June we set out our strategy which will see the group focus its investment on our aviation assets, particularly London Southend Airport', said Stobart Group CEO Warwick Brady. 'The sale of the Rail & Civils business removes the obligation for the group to fund the expected ongoing losses of the rail business and is a first step in achieving our goal of focusing our investment on aviation.'
As of February 29, Stobart Rail Ltd had gross assets of £32·8m and net liabilities of £11·8m. The loss before tax for the year to February 29 was £10·1m.
Bavaria is to run Stobart Rail & Civils on a 'business as usual' basis, providing financial support with a view to returning it to profitability. 'We are really excited about working together and hope that being free from the large corporate parent will release the team's entrepreneurial flair', said a Bavaria spokesperson.
The deal does not involve Stobart Rail Freight, which is owned by Eddie Stobart Logistics plc, a transport business which is not part of Stobart Group Ltd.