UK: While railways are generally regarded as the most environmentally-friendly mode of surface transport, there is still much that can be done to improve their sustainability and environmental impact, as reflected in a wide variety of initiatives across the UK rail sector.
The Rail Business Awards has long sought to acknowledge and celebrate such efforts, with the keenly-contested award for Sustainability & Environmental Excellence showcasing many examples of good practice. Past winners have ranged from in-house recycling initiatives and the adoption improved construction methods outreach and community engagement.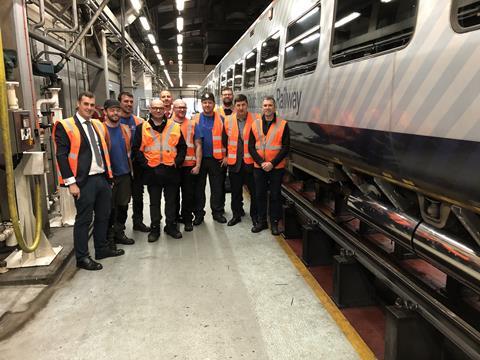 In 2021, the award went to a joint entry from South Western Railway, Porterbrook and Eminox for a well-planned project to retrofit exhaust treatment to a Class 159 DMU, offering an economical way of reducing the environmental impact of legacy diesel train fleets.
Entries are now being invited for the 24th Rail Business Awards, providing another opportunity to recognise and celebrate excellence in this field. The judges will be looking for a person or business that has demonstrated:
· a commitment to improving sustainability or reducing the environmental impact of rail services or projects through technical or process innovation;
· the introduction of environmental, social and financial policies that support more sustainable ways of working;
· evidence of environmental improvements across specific areas within the business;
· involvement of both senior management and staff in implementing sustainability initiatives;
· evidence that sustainability is built in to the whole business planning process;
· the impact of initiatives on operational effectiveness and commercial performance.
Entries for the 24th Rail Business Awards will close on September 24 2021. Further details can be found at www.railbusinessawards.com
The winners are due to be announced at a gala evening at the Royal Lancaster London on WednesdayFebruary 23 2022. While we are all looking forward to getting together again, arrangements for the event will respect government guidelines, and take due regard of the Covid-19 situation nearer the time.