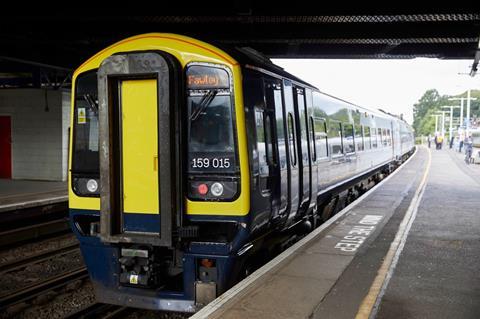 UK: South Western Railway ran a 'fact-finding' train on July 28 to highlight the proposals to reintroduce a passenger service on the 13 km branch from Totton near Southampton to Fawley.
This follows Hampshire County Council's successful bid for funding from the Department for Transport's 'Restoring your Railway' initiative to undertake a feasibility study into reopening what is now being branded as the Waterside Line.
The line was opened in 1925, but regular passenger services ending in 1966. The last regular freight trains serving the Fawley refinery ran in 2016, although occasional trains still use the branch to reach Marchwood Military Port. Reopening had been listed as an 'aspiration' in Stagecoach Group's 2001 bid for the South West Trains franchise, and was flagged up again by the Association of Train Operating Companies in 2009. HCC commissioned a study from Network Rail in 2012 to consider options up to GRIP3.
Operation of the special passenger train required cutting back undergrowth and checking the condition of the track, as well as briefing the train crew.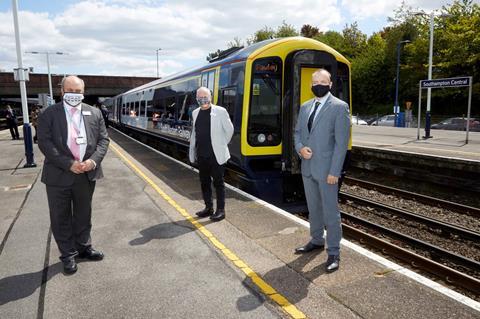 Guests on board included Rail Minister Chris Heaton-Harris, Network Rail Chair Sir Peter Hendy and representatives of Hampshire County Council and Southampton City Council.
'The progress towards developing a business case for this restoration is testament to the energy and enthusiasm of local campaigners, and I share the passion they and other communities have to reopen and restore local lines', said Heaton-Harris.
Hendy said railways 'have a huge role to play in building environmentally-sustainable economic and social development and places like Marchwood, where the railway is still in place, are perfect examples of where we can help local communities grow. It's great to see a passenger train down this line again and this has been a really useful event for our partners to understand what we might have to do to bring trains back permanently.'