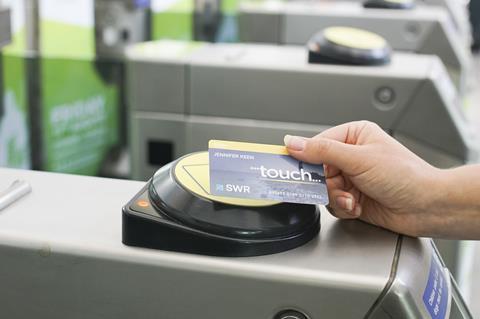 UK: South Western Railway has launched Tap2Go account-based smart card ticketing for use on its services outside London.
The back office is provided by iBlocks and Worldline, while Cubic updated the gates and VIX the validators to accept Tap2Go.
Passengers touch in and out at the start and end of their journey. The system then calculates the best fare, with payment taken from their Tap2Go account the day after travel. Users can either top up their account with credit or have a bank cards charged directly.
The smart cards can also store other tickets such as season tickets, so that journeys between the origin and destination of the season tickets will not be charged.
Extra features are to be added later this year, include being able to add Tap2Go to an existing Touch smartcard.
'Our Tap2Go smartcard removes the need for customers to buy a ticket before their journey, making their journey with us a whole lot easier', said Commercial Director Peter Williams on September 3. 'With the ability to add season tickets to their card, everything the customer needs for their journey will be all in one place. Plus, by calculating the best daily fare, Tap2Go will ensure value for money for our customers.'
• PayPal can now be used to buy tickets on South Western Railway's website and app without the customer needing to enter their bank card details. 'Adding PayPal to our existing methods of payment offers a safe, easy to use and swift way for our customers to buy their train tickets', said Williams.