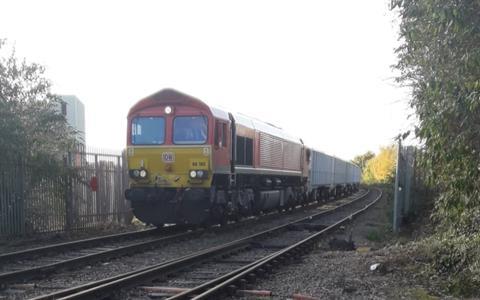 UK: The first trains have delivered aggregate to an asphalt and aggregates facility which Tarmac is developing to support infrastructure projects in and around Birmingham.
The site is to be entirely supplied by rail, with DB Cargo UK using converted coal hopper wagons to transport aggregates from Tarmac's Mountsorrel quarry.
'The new facility is a great example of the benefits of transporting construction materials into a city centre location by rail', said Tarmac's head of rail Chris Swan on January 6. 'We're able to support the efficient delivery of local infrastructure projects without increasing HGV movements on the local road network, enabling us to lower the whole life carbon footprint of customer projects as well as reduce our transport CO2'.
Cemex is spending £300 000 renewing 600 m of track and upgrading other facilities at its aggregate terminal in Salford in northwest England. The site can now receive hardstone deliveries from South Wales every two weeks by rail instead of road.