UK: Passenger train operators are to reduce services in response to the latest coronavirus lockdown, but a different approach is being taken to last year.
Service levels will be approximately 72% of pre-pandemic levels, down from the 87% operated since the government's announcement of the latest lockdown on January 4 2021.
'The change reflects the lower number of people travelling and delivers better value for taxpayers, while ensuring services will continue to run reliably if Covid-19 affects the availability of rail staff, said the Rail Delivery Group when the changes were confirmed on January 14.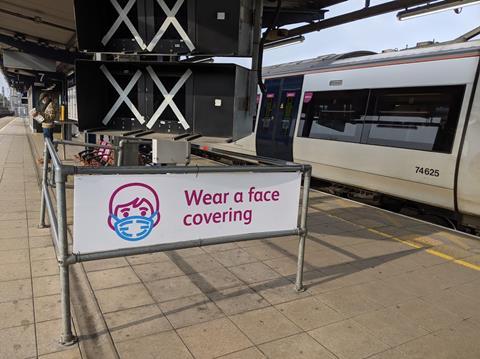 A key difference to the reduction in services at the start of the pandemic is that that changes will be made in a way which is designed to enable services to be restored as quickly as possible as restrictions are eased.
This means that not all operators are stepping down timetables at the same time, and so people who need to travel have been warned that they must check train times regularly over the coming weeks.
Drawing on experience from last year, operators aim aiming to maintain peak time services and those used by key workers.
'Rail companies are doing everything they can to ensure people who must travel can do so with confidence, including boosting cleaning and improving customer information', said an RDG spokesperson. 'With modern air-conditioning now installed on the vast majority of trains, air in carriages is replaced approximately every 6 min, meaning a lower risk of transmission compared to other indoor settings.'
Deliverable resilient timetables
'The changes are designed to provide deliverable resilient timetables that meet the current demand and operational requirements such as driver training', Transport for the North's Head of Rail Service Outputs Adam Timewell said at the January 12 Rail North committee meeting.
'The key difference this time is the ability to step back up quickly in just a matter of weeks, if demand requires it, and particularly in light of school travel and how that will be affected as we come out of February half term.'
Timewell noted that LNER, Avanti West Coast and East Midlands Railway would all be amending their services, while CrossCountry would initially just be adjusting train lengths.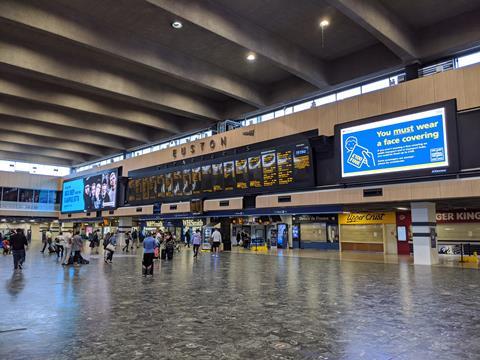 Rail Business UK understands that long distance services will be reduced significantly, with Avanti West Coast dropping to one train per hour from London Euston to each of Liverpool, Glasgow, Manchester and the West Midlands, supplemented by a few additional trains to other destinations.
Rob Warnes, Strategic Development Director at Northern, explained that the government had asked operators to revise their timetables following the lockdown announcement. 'So far numbers have not gone down as far as the levels we saw last spring, but we have seen a significant step down at the back end of last week and early this week', he said. 'We are re-planning our timetables to be able to do something that's reliable and resilient through the lockdown period.'
This would take into account a reduction in staff availability, following significant increases in the numbers of people sick, self-isolating and shielding.
Northern's timetable from January 18 will be similar to the one operated in July, with an hourly service on many routes from Monday to Saturday, and lower frequencies on other lines. The Sunday service will remain unchanged.
'We have put that plan in initially for four weeks, which takes us through to the middle of February, when we believe government will make some fresh announcements on schools', said Warnes. 'So if government does announce in February that schools will be reopening, we will be looking at layering some trains back in that were particularly useful for our kids.'
TransPennine Express is not planning to amend its timetable at this time, said Service Planning Director Jerry Farquarson. 'We are working on having shelf-ready interventions for the next few weeks if they are required. That would be a thinning out of service the service frequency, but at this stage we're not planning any service decrement.'
Meanwhile, Network Rail reported that it was currently managing around a 5% absentee level as a result of staff isolating or being clinically vulnerable, a level which it said does not pose a risk to current maintenance and renewals activities across northern England, although it was seeing 'spikes in certain areas'.