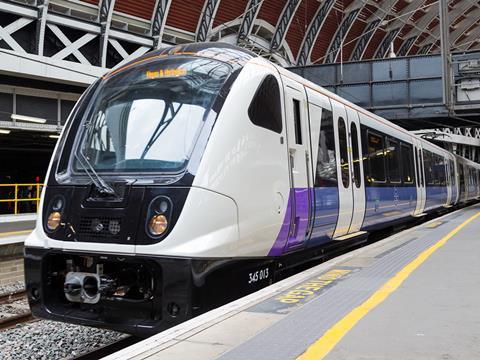 UK: Details of the transfer of London Paddington – Reading stopping services from Great Western Railway to TfL Rail from the December 15 timetable change have been confirmed by Transport for London.
The services are to be operated under the TfL Rail brand, which will be replaced by the Elizabeth Line name when the Crossrail tunnels though central London open at a still unspecified date.
Under TfL Rail, the current GWR service of four stopping trains/hour in the peak and two trains/h off-peak will be maintained, using Bombardier Class 345 Aventra EMUs. GWR will continue to operate fast services from Reading, Twyford, Maidenhead and Slough to Paddington.
Although West Drayton is the last station within the TfL fare zones, from the date of the annual fares change on January 2 2020 passengers will be able to use contactless bank cards for pay-as-you-go travel all the way from Paddington to Reading. Between December 15 and January 2 the existing ticketing arrangements will apply. In line with TfL's wider policies, children under 11 who are accompanied by an adult, as well as people who are eligible for the Freedom Pass, will be able to travel for free to Reading on the TfL service.
It will not be possible to use Oyster smart cards beyond West Drayton, owing to the limitations of the system which is now more than 15 years old.
TfL expects that GWR will also offer pay-as-you-go with contactless from January 2, however pay-as-you-go will not be valid on South Western services between London Waterloo and Reading.