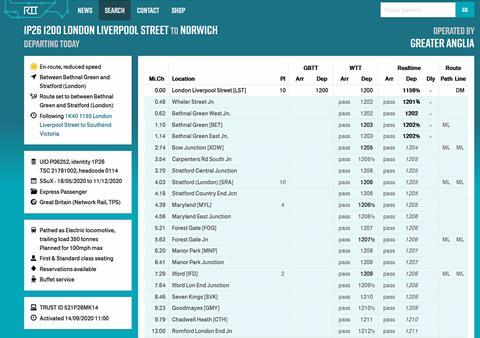 UK: The Realtime Trains web platform which provides independent train running information for the national network added a further layer of functionality on September 14 known as Track Your Train.
Based on real time signalling data, Track Your Train has been rolled out on a series of routes radiating from London Liverpool Street after three years of development. The aim is to provide users with live information when a train is late or running slowly, and it seeks to embrace many of the principles underpinning the wider roll-out of Connected Driver Advisory Systems.
The tool is described as by RTT Founder & Lead Developer Tom Cairns as 'a simplified version of interlocking, overlaid onto signalling state data'. The first release provides details of a given train, its current location, its punctuality status and where appropriate an indication of likely causes of delay.
In RTT's Detailed View setting, the user will receive information showing how far the route is currently set in the signalling system along with a real-time indication of the aspect of the next signal that the train will pass.
TYT also provides substantially richer information about station calls than existing industry feeds. Notably the tool is intended to display platform allocations as soon as they are set in the signalling system, thereby mitigating some of the risks of late platform displays at key interchange hubs.
At origin stations, TYT adds more granularity to RTT's existing train reports, such as 'Approaching', 'Arriving', and 'At Platform'. Two more can now be displayed: 'Preparing to Depart' and 'Ready to Depart'. It is hoped that this will give a much better indication of train status, especially during disruption or when a passenger is making a last-minute attempt to catch a particular service. These details are initially being provided for trains leaving London Liverpool Street, Chingford, Shenfield, Southend Victoria, Wickford and Witham.
Cairns says this feature will be expanded to cover as much of the country as possible over the coming months and years. 'However, not all areas can support this feature as it pushes signalling data to the very limits of what is possible.'
The roll-out of TYT marks a further step in the evolution of RTT, which Cairns says is increasingly seen as an asset to the industry despite some early hesitancy to engage with the business. It had been perceived by some in the rail sector as a tool primarily of interest to enthusiasts.
Amid wider trends in business towards the sharing of open data, several operators and Network Rail now make extensive use of RTT's feeds, and the business has recently renewed its licence agreement with a leading UK supplier of software covering operational and performance analytics.