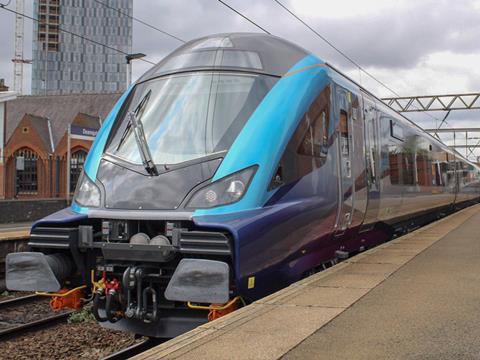 UK: TransPennine Express's fleet of CAF Nova 3 push-pull coaches is now expected to enter service 'slightly later than planned' in spring 2019, the operator confirmed on November 12.
TPE said CAF had recently made it aware of a 'technical issue with a key on-board system' on the Mark 5A coaches, and was 'working hard to ensure this is addressed as soon as possible prior to delivery of the trains'.
The operator stressed that the issue does not affect its Nova 1 Hitachi AT300 electro-diesel multiple-units or Nova 2 CAF inter-city EMUs which are also expected to enter service next year.
'While we are keen to start the roll out of the Nova 3s as soon as possible, it is important that we allow CAF to address the issue identified during the train testing process', said TPE Managing Director Leo Goodwin. 'It was hoped that our customers would start to experience these new trains before the end of the year, but we will all now have to wait until the New Year.
'This issue does not affect the other Nova fleets; we will start to see new trains in service by spring next year, and we are still on track to complete the roll out of all three fleets of trains by 2020', he said, adding that 'it may be a short delay to the programme, but it will definitely be worth the wait.'
Once in service, the Nova 3 push-pull financed by Beacon Rail will operate between Liverpool, Manchester, Huddersfield, Leeds, York, Scarborough and Middlesbrough.
Last month Caledonian Sleeper confirmed that the introduction of its fleet of CAF coaches had been put back from autumn 2018 until spring 2019, saying the approvals process was 'time-consuming and complex' and there was 'still work to be done' before they could enter service.