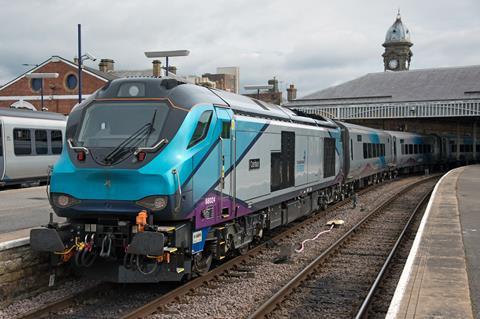 UK: TransPennine Express has confirmed that it will cease using its push-pull sets of Class 68 locomotives and MkVa coaches, previously designated 'Nova 3', from the December 2023 timetable change.
The decision is the result of a review of operations after TPE was transferred to the Department for Transport's Operator of Last Resort.
DfT had originally specified procurement of coaches as part of the invitation to tender to for the TPE franchise, with the expectation that the future operator would take on redundant five-car Class 442 third-rail EMUs and modify them for use with diesel locomotives.
It is understood that eventual winner FirstGroup was the only bidder for the franchise to propose the acquisition of new rolling stock.
Following the award of the franchise in December 2015, the 13 five-car sets of coaches along with a spare driving trailer were ordered from CAF in Spain, financed by leasing company Beacon Rail.
They entered service on the Liverpool – Scarborough route in August 2019, powered by modified Class 68 locomotives subleased from Direct Rail Service.
The introduction was hampered by technical issues and slow progress with driver training, exacerbated by the arrival of Covid-19 and the long-running industrial relations issues at TPE. Operation into Scarborough was further impacted when local residents complained about the noise of the Class 68 locomotives at the maintenance facility which had been constructed to service the new trains.
The use of the fleet continued to be restricted, and a brief introduction on the Liverpool – Cleethorpes route was abandoned in July 2023.
The fleet has never achieved its planned usage, with very few sets being in service on a daily basis.
Simplification of operations
When TPE moved to OLR an intensive review of the business concluded that a simplification of operations was essential.
This will see a temporary reduction in services from December 2023 while the company focuses on training and a change to the way crews are diagrammed. Along with more intensive use of the 19 Hitachi Class 802 bi-mode trainsets and the full Class 185 DMU fleet, this will mean the northern trans-Pennine routes via Huddersfield can be served without the need for the loco-hauled trains.
The original franchise had been expected to release 15 of its 51 Class 185 DMUs, but this was temporarily postponed in 2020 and the entire fleet is now remaining with the operator, enabling TPE to provide capacity as agreed with the Rail North Partnership and DfT.
A key part of the 2016 franchise was a plan to employ 'optimised diagramming' where train crews signed shorter routes and fewer traction types.
Long journeys currently may require four or more changes of crew, and when a member of staff is unavailable a complete journey may be cancelled even though the majority of its length is covered by crew members who will be sitting spare and unable to work the train. Drivers and conductors may also have been working to different plans, further impacting on the delivery of services. This has been cheaper for the business, but it has been a significant cause of cancellations and was a factor in DfT deciding to terminate FirstGroup's contract.
In the future crews will be trained on more routes and kept together wherever possible. Training will also be undertaken on the large number of diversionary routes that will be needed during the Transpennine Route Upgrade programme.
To enable this, services on the northern route will be rationalised on what is expected to be a temporary basis, with TPE seeking permission from Rail North and DfT to operate the following from the December timetable change:
1 train/h Liverpool to Newcastle;
1 train/h Manchester Airport to Saltburn via the Ordsall Chord;
1 train/h Manchester Piccadilly to Hull;
1 train/h Scarborough to York.
These will be supplemented by the stopping service between Manchester Piccadilly and Huddersfield, although the current stopping service between Huddersfield and Leeds is expected to be covered by Manchester to Hull trains, adding to their overall journey times.
Industry sources indicate that TPE is also planning to introduce a new Manchester to York service via Wakefield Kirkgate which will avoid Leeds altogether.
There has been no indication as yet regarding any future use of the MkVa vehicles or the Class 68 locomotives that will be released.