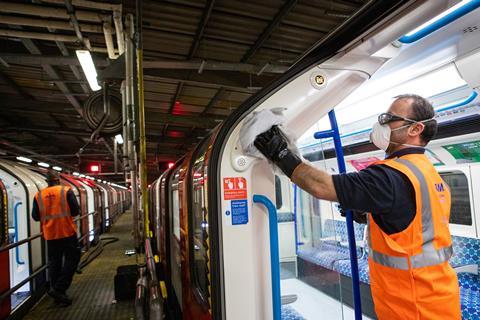 UK: The government has agreed to extend Transport for London's emergency funding package for a further two weeks, ensuring public transport services can continue to run until October 31.
Under normal circumstances TfL revives no direct government funding for its day-to-day operating costs, unlike most of its counterparts in major cities around the world. This means that it is heavily dependent on fare revenue, which has collapsed as a result of the coronavirus pandemic.
In May the government agreed to provide a grant of £1·095bn and a loan of £505m to support continuity of operations through to October 17, while a new funding package was negotiated. Higher than anticipated ridership meant TfL's actual shortfall was less than £1·6bn, so the two parties agreed on October 16 that the existing package would be sufficient for the next two weeks while discussions continue.
The announcement came amidst increasing acrimonious political debate about the structure of any longer-term funding agreement. The government reportedly wants TfL to extend the congestion charge zone and cut back on concessionary travel, which the Mayor of London Sadiq Khan opposes.
Adding to the problems, the coronavirus warning level in London was raised on October 17, with people advised to work from home where possible and reduce the number of journeys made. This would clearly impact on future ridership and revenues.
'We continue to discuss our funding requirements with the government and hope these discussions can be concluded successfully soon, so we can help London through the next phase of the pandemic', said a TfL spokesperson. 'We have today agreed with the government that our funding will be extended for two weeks so that these constructive discussions can be concluded.'