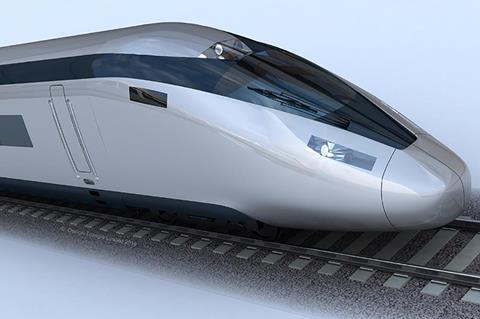 UK: Rumours that the HS2 programme may be scaled back in the north of England have brought a strong response from Transport for the North.
Newspaper reports have suggested that the government-appointed review panel being chaired by former HS2 Chairman Douglas Oakervee will propose the cancellation of the Phase 2b route beyond the East Midlands to Leeds and Sheffield, a reduction in the maximum design speed of trains by 65 km/h to 338 km/h (210 mile/h), and less tunnelling as a way to save more than £10bn.
The estimated cost of the high speed railway has risen to an estimated £88bn, a price which review panel member and Mayor of the West Midlands Andy Street recently said meant that the business case was 'not good enough'.
The panel is also considering whether to abandon the section between Old Oak Common in west London and London Euston, with passengers for central London using local connecting trains.
In September, TfL Commissioner Mike Brown insisted that HS2 must continue to Euston, saying 'the worst outcome for me for HS2 is a truncated "Ryanair" option' terminating at Old Oak Common, adding that 'in my judgment, if it stops at Old Oak Common, it will never go to Euston in my lifetime.'
The scaling back of the northern sections was also hinted at by DfT Permanent Secretary Bernadette Kelly on October 4, when she suggested there was scope for changing these as this phase has not yet received parliamentary approval.
'Grave long-term consequences'
A spokesperson for TfN said it would be 'a huge missed opportunity if the current ambition for HS2 and the benefits it could deliver for the northeast of England are scaled back; such a decision would be seen as out of touch with what northern leaders would expect as part of a truly 21st century pan-northern rail network'.
In its submission to the Oakervee Review, TfN has asked to be included on the HS2 board to 'prevent decisions being taken that are not in the interests of the north of England'.
Leader of Leeds city council Judith Blake said there would be 'grave long-term consequences for the economy of the north and east of the UK if the eastern leg of HS2 isn't delivered in full. It would sacrifice the £600m of annual GDP growth forecast from better connections between Leeds and Birmingham alone, while also putting at risk the expected 50 000 additional jobs HS2 would create in the Leeds city region'.
The review panel is expected to report this month, but any final decision based on its recommendations would be taken by the government. In response to the newspaper reports, DfT said 'we are not going to pre-empt or prejudice this work with a running commentary on the review's progress'.