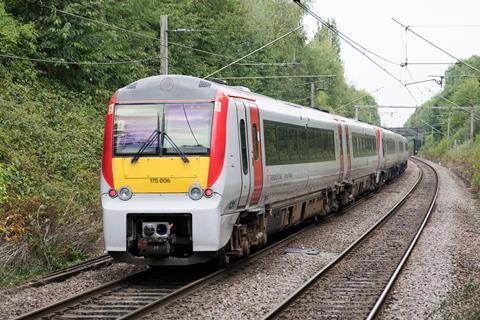 UK: The return of Transport for Wales' Class 175 DMU fleet to full service will be a slow process, according to Chief Operating Officer Jan Chaudhry van der Velde.
Most of the fleet was taken out of service at the beginning of March after a series of underbody fires.
Investigations revealed that poor cleaning of the engine bay area was leading to a build-up of fuel deposits in an area where very hot exhaust gases are present.
The temperature of the air involved in combustion is managed by a charge air cooler, and random tests across the fleet following the fires revealed a significant number of leaks coupled with pressure test failures. On these units, the temperature of the exhaust gases would be even higher, leading to an increased risk of what TfW described as 'thermal events'.
A thorough clean of every engine bay has been demanded by TfW alongside attention to all failed charge air coolers. This has been reinforced by the Office of Rail & Road issuing an improvement notice to TfW and, according to insiders, advice from ORR to CAF as maintainer of the fleet regarding a tightening up of maintenance procedures.
The maintenance of the Class 175 fleet is somewhat complex; it was previously undertaken by the trains' original manufacturer Alstom at its Chester depot. The work transferred to CAF when it took over the depot in July 2022 in preparation for the introduction of its Class 197 DMUs and the release of the Class 175 units.
Alstom continues to provide Technical Support & Spares Supply Agreement services, and is responsible for replacing the charge air cool radiators. These, in turn, are supplied by LH Group, part of Wabtec, where only a small float of radiators was immediately available.
All parties are reported by TfW to have 'come to the table to work together to get the problem sorted'. With LH Group under pressure to find new parts at short notice, a supplier has been found in the Middle East and new radiators are now being supplied and fitted.
Speaking to Rail Business UK, Chaudhry van der Velde explained 'the fleet check led to decision to stand fleet down; subsequently we have said to passengers and colleagues that we won't put a train out unless it's had the engine clean. We have also provided CAF with photographs of what a cleaned up engine should look like so the maintainers know what is expected. We are getting through the programme and every day and every week we're getting more Class 175s back into service.
'In the meantime we've had to step down our timetable somewhat, it is painful for passengers at the moment; we are spreading the fleet a lot more thinly across the network.'
The return to service is being managed in a dynamic train plan with additional circuits being added each week; the aim is to have eight diagrams covered on April 3 and then building through 10 to 15 in successive weeks. Restoration of all Class 175 diagrams will take until at least mid-April.
TfW has resisted calls to speed up the acceptance of the Class 197 DMUs, with Chaudhry van der Velde explaining 'we need as many Class 197s as CAF can get us but they must be acceptable quality; we do not want the problems some other TOCs have had'.
Despite this, TfW has been able to make some changes which mean additional Class 197s are available for service.
Chaudhry van der Velde said 'we have moved the driver training sets into passenger service and we are using "engineering fit" but as yet unaccepted Class 197s for training instead. I'm doing everything I can to get 197s into passenger service.'