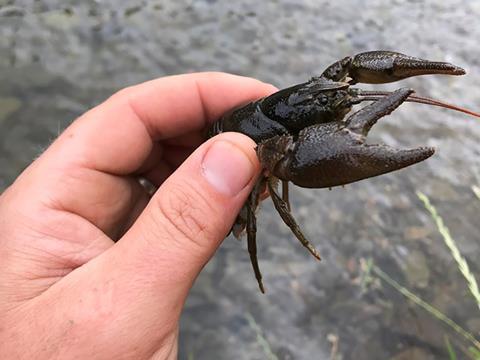 Network Rail has caught and moved 200 endangered white clawed crayfish as part of works to reinforce the 173-year-old Grade II listed Docker Garths viaduct on the West Coast Main Line in Cumbria.
East Midlands franchisee Abellio and leasing company Eversholt Rail have awarded Bombardier Transportation a £133m contract to continue to maintain the 27 Class 222 DEMUs at Derby Etches Park depot until December 31 2022. Heavy component maintenance will take place at Bombardier Crewe.
Commercial interiors firm APSS has completed a week-long refurbishment of the LNER first class lounge at Leeds, designed to match the branding of the Hitachi Azuma trains.
Network Rail has awarded Altran and AECOM contracts to support the delivery of work within its Safety, Technical & Engineering strategic plan in 2019-24, with options for two-year extensions. The contracts are designed to enable greater integration with the two suppliers, allowing early engagement and increased collaboration on discrete packages of work.
Two lifts have been installed at Carshalton station in south London in a £2·5m Access for All project to provide step-free access to the platforms.
South Western Railway and SSE Enterprise Rail have installed 60 Rolec EV WallPod electric vehicle charging points in the station car parks at Basingstoke (18), Farnborough (12), Andover (10), Haslemere (eight), Wokingham (six) and Fleet (six) in a £100 000 project.
Redcar & Cleveland Borough Council, Middlesbrough Council and Tees Valley Combined Authority have outlined proposals for a Roseberry Parkway station between Nunthorpe and Great Ayton on the Middlesbrough – Whitby line. Intended to serve as a railhead for Guisborough, the station adjacent to Roseberry Topping would act as an interchange 'hub', bringing together trains, buses, cycles and parking.
Bonasystems is to conduct slip risk assessments at 11 Network Rail managed stations, using a pendulum test which is designed to replicate a pedestrian heel strike at the point when most slips occur. This will enable Network Rail to adopt a scientific approach to reducing the risk of slips, said Dr Steve Thorpe, Head of Risk at Bonasystems.
Following a Competition & Markets Authority investigation into the award of the East Midlands franchise to Abellio, EMR and Greater Anglia have committed to inflation-linked fare caps on advance fares on the Norwich to Ely route, and on all unregulated fares on the Thetford to Ely section. The operators have also agreed to maintain the availability of advance fares at existing levels.
The Rail Accident Investigation Branch has released its report into a serious operational irregularity involving an abnormally heavy road vehicle at Bagillt user worked crossing in Flintshire on August 17 2018. There is one recommendation addressed to Network Rail, seeking improvements in its management processes for user worked crossings with telephones. Two observations relate to how signallers decide when it is safe for users to cross, and note poor application of safety critical communication protocols in some training material. Four learning points relate to dealing with requests to cross user-worked level crossings, and one to correct use of safety critical communication protocols in training material.