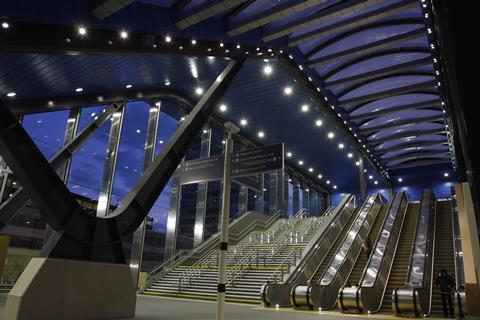 Network Rail is to release an open data feed with live information about the status of lifts and escalators at around 370 stations, increasing to 1 500 lifts and 300 escalators at 463 stations as monitoring equipment is deployed over the next 18 months. NR said previous open source data releases had quickly resulted in third party developers creating passenger apps, and it envisaged that this release would enable travel planners to provide live availability information to passengers. The data will also be used by the National Rail Enquiries website.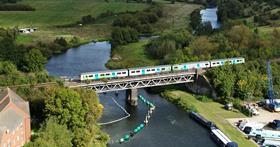 Danfoss Editron has supplied a DC/DC converter and choke pack for used with the Ballard Power Systems FCveloCity-HD fuel cell module and batteries on the Hydroflex multiple-unit being developed by Porterbrook and the University of Birmingham's Centre for Railway Research & Education. 'Our converter has been specifically designed to withstand high levels of mechanical vibrations and shocks, as well as to manage the highly cyclical loads found in heavy-duty machines such as trains', said Jesper Moos, Danfoss Editron's Lead Engineer for the project.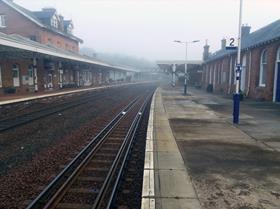 Story Scotland's track team is to install 3 200 m of new rail at Dumfries on behalf of Network Rail by the end of the year.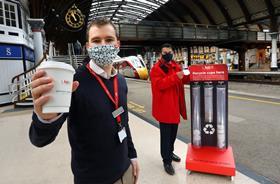 LNER is introducing disposable cup recycling stands at its managed stations. Cups will be collected Forge Recycling and sent to a specialist papermill where the plastic liner can be stripped from the paper fibres. The fibres will be turned into luxury papers for use in new products, and the liner burnt for energy recovery.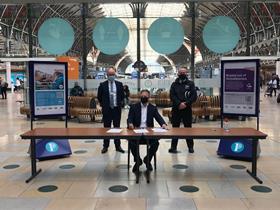 Network Rail, the government and the British Transport Police have signed a pan-industry charter as part of the Routes out of Homelessness initiative for people sleeping rough around the rail network. They will working with charities The Big Issue Foundation, Crisis, End Youth Homelessness, Railway Children and Shelter to create bespoke plans and training for station staff so they can give the right advice and support to people sleeping rough around the railway.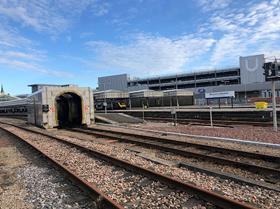 Story Scotland is to undertake track maintenance work for LNER at Aberdeen Clayhills depot under a three-year contract. The first four-week package includes sleeper replacement, re-railing, welding and grinding repairs, track slab repairs and realignment. Story will also provide on-call support for track emergencies.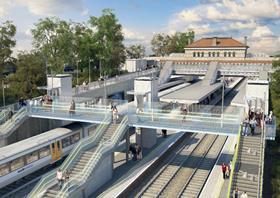 Work is underway on a £7·5m project funded by the Department for Transport to relieve crowding at Denmark Hill in south London. This includes a second entrance to make it easier to walk to the two nearby major hospitals, with heritage gates partly funded by the Railway Heritage Trust. An 85-space cycle storage area is being funded by Sustrans and the nearby employers King's College Hospital and South London & Maudsley NHS Trust.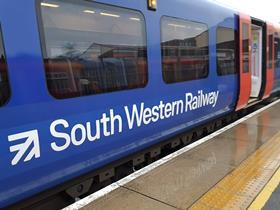 All 187 stations on the South Western Railway network now have wi-fi, up from five in 2017. The roll-out is part of a three-year deal between SWR and BT, which has upgraded of 104 4G EE cell masts on SWR's network and will see 31 new masts erected to improve onboard connectivity.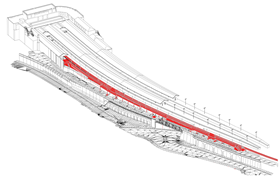 Contractor Alun Griffiths Ltd is to rebuild and lengthen platform 4 at Swansea station to accommodate longer trains and provide more flexibility. Transport for Wales is undertaking a full rebranding and refresh of the station, with improved ticket-purchasing facilities and refurbished space for use by local businesses and community groups. The work is scheduled to be completed by mid-2021.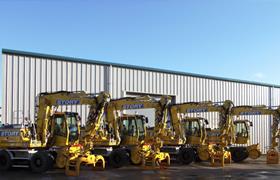 Story Contracting is to hold an open day at the Babcock Training Facility in Hamilton, South Lanarkshire, on October 31 in a bid to strengthen its bank of casual road-rail vehicle operators. 'With the increasing requirement for RRV operators at weekends, we must be strategic in how we attract casual RRV operators and are keen to open out the opportunity to anyone to come along and test their skills in a controlled environment', said Rob Cairns, Plant Regional Manager Scotland. 'Working on a casual basis offers flexibility and can fit in around any other commitments such as work, study or family.'
Dyer Engineering has obtained the EN 15085 certified standard for the welding of railway vehicles and components, following an assessment from specialist assessors instructed by awarding body TWI CL on behalf of the Office of Rail & Road. 'Not only does it validate the precision and quality of our work for the rail sector, but it also supports the long-term ambitions of the business', said Development Manager Lee Farms. 'Gaining the highest welding standard available in the industry enables us to have conversations with a greater number of potential clients. It presents us with opportunities that would otherwise not be open to us'.