To enable the construction of a substation at Hambleton Junction as part of the ECML Power Supply Upgrade programme, the Rail Electrification Alliance of Network Rail, Siemens, J Murphy & Sons, VolkerRail, TSP Projects and Jacobs worked with Northern Powergrid last month to remove four overhead power lines spanning the East Coast Main Line and Leeds – Hull routes. REAL assisted with the railway interface and protection of overhead line equipment, as the electricity network operator worked through the night to remove the power lines.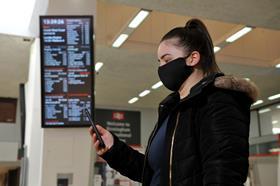 Avanti West Coast is trialling the Waymap digital wayfinding app to help passengers navigate their way around Birmingham International station. If successful other stations could follow. 'This latest initiative gives customers the tools to navigate platforms or points of interest tailored to their journey with their preferred choice of instructions, allowing them to get where they need to be more easily and with independence', said Natasha Grice, Executive Director of Customer Experience.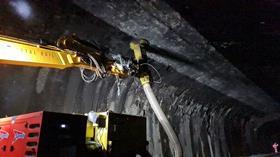 AmcoGiffen is using its third generation of tunnel lining cleaning attachment for road-rail vehicles, which can also be used for graffiti removal and platform cleaning. It fixes directly to the vehicle and has an inbuilt tilt and rotation system, allowing placement at any angle to sweep tunnel walls, roof areas, vertical walls and platforms. It is entirely self-contained, with a vacuum to collect detritus for safe disposal as well as brushes arranged to prevent damage to the brickwork.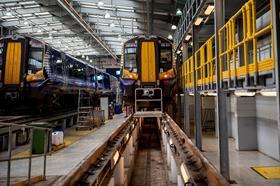 Siemens Mobility's Technical Support & Spares Supply Agreement covering ScotRail's fleet of 38 Class 380 EMUs has been extended by five years to December 2026.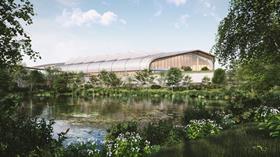 HS2 Ltd has begin the process of appointing a contractor to build the £370m Interchange station serving Solihull, Birmingham Airport and the NEC. The shortlist is to be announced later this year and the contract awarded in 2022.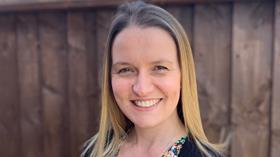 Lucy Wootton has been appointed head of the Grand Railway Collaboration, which represents train operators, Network Rail's Central route, the West Midlands Rail Executive and Transport Focus. She was Regional Manager (London), for Chiltern Railways, and has joined GRC on an 18-month secondment.
Complete Paving Requirements (Scotland) Ltd has been awarded a five year Tier 1 contract with Network Rail covering platform, path, road access and car park surfacing across the Scotland Route.
Acorn Rail has appointed Colin Berry as Programme Director for the Wales & Western Region. 'He will be a huge benefit to the company in managing significant clients including TfW, Network Rail, Amey, AmcoGiffen and Alun Griffiths Rail, among others', said Business Director Kevin Morris.
Dyer & Butler has completed platform extension and lighting, drainage and fencing works at Eggesford station and two bridge renewals at Penstone and Battesford during a nine-day blockade on the Exeter – Barnstaple line.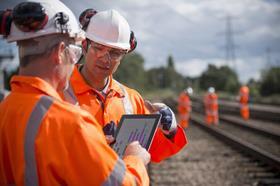 The City & Guilds Group's Intertrain says it is the first rail training provider to offer adult education budget-funded occupational traineeships for 19–24 year olds. Each traineeship includes a work experience placement as part of the skills development programme, and on completion candidates will have gained the skills and experience to be able to progress onto an apprenticeship or employment. 'We're thrilled that Intertrain has been selected to be involved in the first pilot of an occupational traineeship in the rail sector', said Alex Pond, Managing Director. 'The pilot will provide opportunities for young people to start an exciting career in rail.'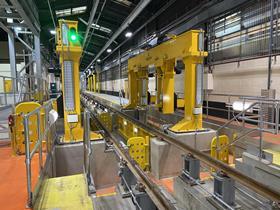 Taylor Woodrow has built a £8·7m bogie drop facility as part of the remodelling of Greater Anglia's Norwich Crown Point depot where Stadler maintains the fleet of multiple-units it has supplied to the operator. This includes a Mechan bogie drop, diesel exhaust extractor hoods, two monorail cranes, a travelling jib crane and an engine lift crane.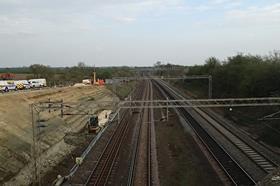 RAIB has released its report into a track worker being struck and fatally injured by a train on the West Coast Main Line near Roade, Northamptonshire, on April 8 2020. RAIB has made two recommendations to AmcoGiffen relating to monitoring and developing the ongoing competence and performance of its staff, and ensuring compliance with its management procedures on new sites of work. One recommendation has been made to Network Rail relating to minimising the need for access to the track when taking isolations of electrical contact systems. RAIB identified two learning points, relating to track workers only accessing the track when they are protected by safe systems of work, and independent review of safe system of work plans.