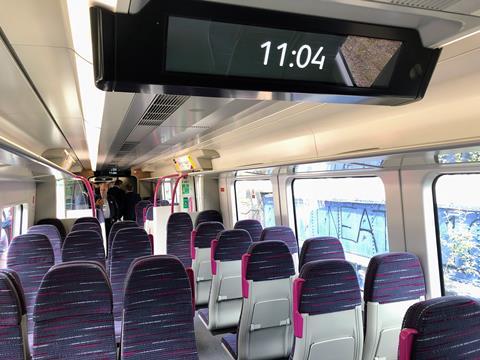 Trenitalia UK subsidiary c2c ran a stakeholders' preview trip between London Fenchurch Street and Southend Central on June 2 using two of the Class 720 EMUs which it is to introduce later this year to augment its fleet. Alstom is supplying 12 five-car Aventra 25 kV 50 Hz trainsets, the first of which are due to enter service from September subject to driver training being completed. 'We need them to boost peak-time capacity and to grow the off-peak market on our route', c2c Managing Director Rob Mullen told Rail Business UK.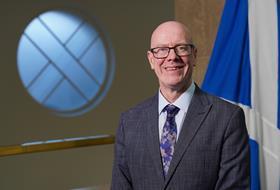 On June 6 Kevin Stewart announced that he had decided to stand down as the Scottish government's Transport Minister for health reasons.
Advertising agency Atomic London has created a campaign designed to build trust in Greater Anglia's Stansted Express service and promote rail over coach, taxi and car travel to the airport. Australian illustrator Brolga has created the character of Stan 'to visually represent the Gen Z passenger who typically flies through Stansted — independent, creative and curious'.
Mayor of Greater Manchester Andy Burnham has been elected Chair of the Rail North Committee, which advises the Transport for the North board. Bradford council leader Susan Hinchcliffe is majority group Vice-Chair, and the minority group Vice-Chair has not been decided yet. 'With both of our main operators under public control, there is a real opportunity to reshape the north's railways and give long-suffering passengers here a more reliable service', Burnham said on June 7.
Turner & Townsend has been appointed to provide project, programme and portfolio management services as well as strategic business change support under Network Rail's telecoms professional services framework, which runs for two years with the possibility of a two-year extension.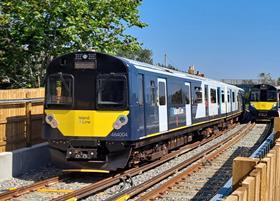 South Western Railway and Network Rail have announced that Ryde Pier will reopen to trains on July 10 following a 'large programme of heavy maintenance and renewal to give it a further 60 years of life'. Bad weather which damaged scaffolding caused a three-month delay, and engineers had to revise their designs in one of the pier's six different zones, changing the components used to secure new rails and sleepers. A further closure will be needed towards the end of the year.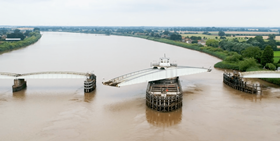 From June 3 to July 2 Network Rail is undertaking major improvements to the 154-year-old Goole swing bridge, including renewal of the hydraulic turning and jacking systems, control system, electricity supply and navigation lights. The Grade II* listed bridge operates using much of its original 1860s hydraulic machinery, and is one of Network Rail's oldest signalling structures. Further work to refurbish and recommission the turning engines will be carried out later this year.
South Western Railway has awarded Rail Reliability Consultancy Services Ltd a £754 411 contract to supply labour for its Class 458/5 EMU improvement programme at Wimbledon depot.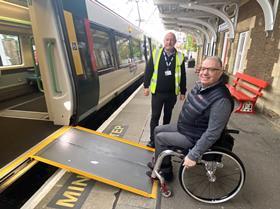 Govia Thameslink Railway has launched a mobile assistance team based at Downham Market and covering the unstaffed Littleport and Watlington stations. Passengers can request assistance using the help point or by phone or text when they arrive at a station or in advance, and staff can then be on hand within 20 min every day of the week.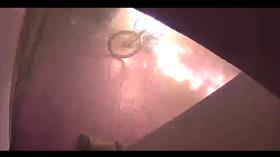 The London Fire Brigade has welcomed the ban on e-scooters, e-unicycles, e-skateboards and hoverboards introduced by many train companies, but Deputy Commissioner Dom Ellis said 'given e-bikes are not included in the ban, we are also encouraging operators to consider whether they have adequate safety measures in place should an e-bike fire happen on their service'.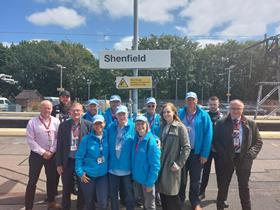 After an absence of nearly three years Greater Anglia reintroduced rail pastors from June 1. The trained volunteers who have completed the Samaritans' Managing Suicidal Contacts course patrol the network from Harlow Town to Cambridge and from Shenfield to Southend and Colchester to help anyone who is vulnerable, distressed or in need of assistance. Rail pastors is an initiative of Ascension Trust, in partnership with British Transport Police, train operators, Network Rail and Samaritans.
The Railway Benefit Fund charity is seeking a new Chief Executive, with Claire Houghton retiring after three years.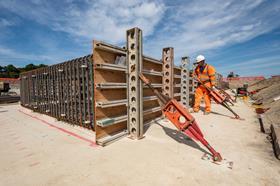 HS2 contractor EKFB has opened applications for 24 steelworker and formworker apprenticeships which will start on July 12. There is no upper-age limit and no previous industry experience is required. A two-week pre-employment training programme from June 12 is designed to help applicants consider if this is the right career move by providing a hands-on insight into the roles.