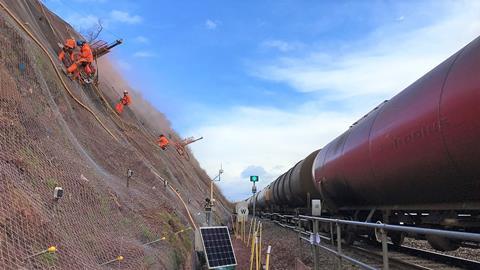 Network Rail and contractor AmcoGiffen will undertaken the second phase of a £25m resilience intervention on the Newport – Gloucester line from July 31 to August 18, removing around 15 000 tonnes from a cliff face near Purton and installing a 19 500 m2 'active mesh' to help prevent landslips from closing the railway.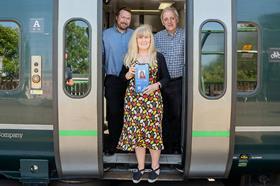 Great Western Railway says the Devon & Cornwall Railcard is the first regional railcard to offer a digital option. 'Mobile ticketing has transformed the way people travel and we hope the move to digital will encourage more customers to purchase this regional railcard', said the operator's Director of Sales & Marketing Amanda Burns on June 23.
As part of its move to a regional delivery model for skills training, Network Rail has awarded framework contracts to Morson Human Resources (first aid & manual handling; track safety; transportable, portable & mobile plant; working at height), Kielder Newport West (lineside) and Intertrain (signalling, health safety & sustainability).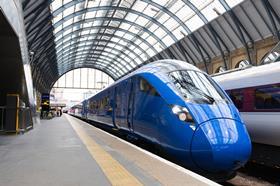 FirstGroup has announced an 'ambitious science-based target' to reduce scope 1 direct and 2 indirect greenhouse gas emissions by 63% by 2035 from a 2020 base, and to reduce scope 3 emissions from fuel and energy related activities by 20% by 2028 from a 2020 base year. The company says that 75% of its suppliers by emissions, covering purchased goods and services and capital goods, will have science-based targets by 2028.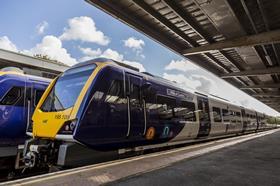 From June 25 Northern has introduced Advance Purchase tickets on Cumbrian Coast services from Carlisle, Workington and Whitehaven. 'They represent a significant saving on the previous price of a ticket for these routes and I hope people will make the most of them to explore the region', said Craig Harrop, regional director for Northern. 'For anyone currently making these journeys by road, I also hope the new lower cost might help convince them to switch to rail.'
On June 26 RMT General Secretary Mick Lynch issued a statement saying 'there are rumours circulating online that the Department for Transport plans to announce mass ticket office closures next week. The train operating companies and the government must understand that we will vigorously oppose any moves to close ticket offices.'