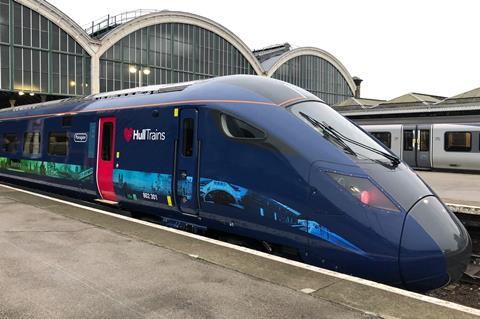 UK: The RMT trade union has written to the Secretary of State for Transport calling on the government to intervene to support open access operators Hull Trains and Grand Central.
Unlike franchised operators, the open access companies which are owned by FirstGroup and Arriva have not received emergency funding during the Covid-19 crisis. They have suspended services as a result of travel restrictions, and furloughed staff.
'Without government funding in line with what has been agreed with the franchised operators, Hull Trains and Grand Central are unlikely to be able to restart operations for the foreseeable future', said RMT General Secretary Mick Cash on June 1. 'However, with appropriate support, they are well placed to provide additional services for those who need to travel. These companies employ hundreds of workers, and it is vital that the government intervene and provide emergency funding to enable them to restart operations in a safe manner, and protect their long-term viability and all jobs.'
Last month the ALLRAIL association of non-incumbent European operators called for a non-discriminatory approach in the provision of public support for train operators during the crisis.
ALLRAIL told Railway Gazette International it believes that government recovery packages 'should consider all passenger rail companies, including those that are privately owned and therefore particularly vulnerable in this crisis'. Support should not 'permanently alter the structure of markets, possibly encouraging a return of monopolistic concentrations', it added.