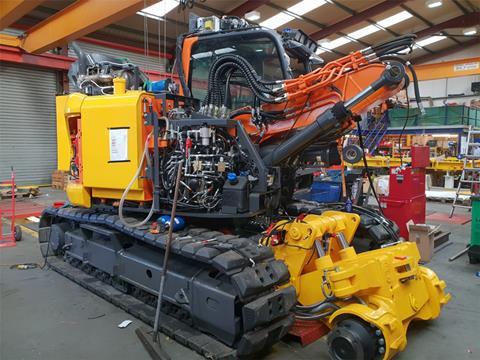 ROAD-RAIL: Pro Rail Services has taken delivery of four Doosan DX140 Parallel offset road-rail excavators fitted with the latest version of GKD's 3RCi+ capacity indicator.
The indicators include slew and height limits with 'virtual walls'. There is selective intelligent hydraulic motion cut of any boom or slew function at the limit to prevent movement further into danger, while allowing recovery into the safe zone. This also provides graduated, smooth control of hydraulic functions as they approach the set limits.
Full data logging of all functions and operational state is included. The cabs have a touchscreen graphical display with ambient light sensor to control screen brightness.
The machines are fitted with SpaceGuard, which offers dual sensing for extra accuracy and to protect against sensor malfunctions, inconsistencies and electronic failures. This enables them to work adjacent to operational lines and under live overhead wires.