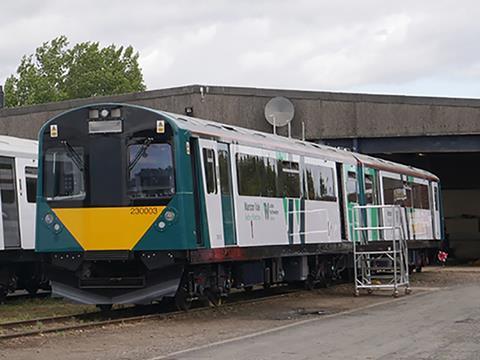 UK: The three two-car D-Train diesel multiple-units which Vivarail is producing for London Northwestern Railway will not enter service in December as had been planned, the supplier announced on October 30.
The Class 230 DMUs are being produced using the bodyshells and bogies from former London Underground D78 metro trains. Vivarail said the time taken to optimise the control systems on the first unit had delayed work on the next two, and this meant the fleet would not be ready for the December timetable change.
Thanking London Northwestern Railway for its patience and help with resolving the 'few remaining problems', Vivarail said it was confident that the DMUs would be ready for service in the New Year.
Jonny Wiseman, Head of Stations for London Northwestern Railway, said the operator was disappointed by the news. 'We want to reassure passengers that we will continue to run the Bedford – Bletchley service with existing trains until the Vivarail units are available', he said. 'The Class 230 programme is an innovative scheme that will deliver many benefits to local rail users. We will continue to support Vivarail in bringing this new concept to the Marston Vale Line.'
Vivarail CEO Adrian Shooter said his experience in the rail industry meant he was 'fully aware of the problems that can occur when introducing new trains and that one unforeseen event can easily overturn months or even years of planning. That is the case here and at Vivarail we hold our hands up to that fact.'
The D-Train is intended to be a low-cost option for lightly used routes. The DMUs for the Bedford – Bletchley line are to have accessible toilets, USB sockets and face-to-back seating. They will have automatic engine cut-out at stations, and be capable of future conversion to battery power.
Wales & Borders franchisee KeolisAmey has also ordered five three-car diesel-battery multiple-units for use on the Wrexham – Bidston, Conwy Valley and Chester – Crewe routes from mid-2019.
The D-Train concept was described in the May 2015 issue of Railway Gazette International magazine, which subscribers can access in the digital archive.