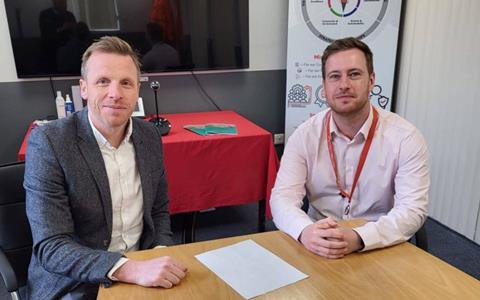 UK: CWE Ltd has signed a framework agreement to supply new and refurbished parts and services for DB Cargo UK's locomotives and wagons, and has also partnered with MCL Rail to provide wagon maintenance services.
The 12-month agreement with DB Cargo UK is the two companies' first arrangement of this kind, building on an existing customer relationship.
'The collaboration between such a well-established and key player in rail freight logistics and ourselves demonstrates our proven track record of working on major rail projects', said CWE Commercial Director Dave Bates on July 31. 'Our repair, refurbishment, and replacement capabilities are specifically designed to keep rolling stock on the tracks while minimising downtime and lowering carbon emissions.'
CWE has partnered with MCL Rail to provide wagon shotblasting, painting, repair and refurbishment services at MCL's Gascoigne Wood site in North Yorkshire.
'We have worked in collaboration with the CWE team for several months to ensure we develop the right solution for both our current and future clients within the rail industry', said MCL Managing Director Mark Lickley. 'We are also looking forward to expanding our future offerings in partnership with CWE.'
CWE has also opened a commercial site at the RaisE Business Centre in Goole. 'This new investment is an exciting development that supports CWE's ambitious growth plans', said Managing Director Nick Andrew.
'We believe the site at Goole will create added capacity at our engineering facilities and increase our ability to meet future demand as we expand our partnerships within the rail industry. It is also fantastic to join the other innovative rail sector businesses and academia at RaisE, growing Goole and Yorkshire as a key centre of the UK rail industry.'