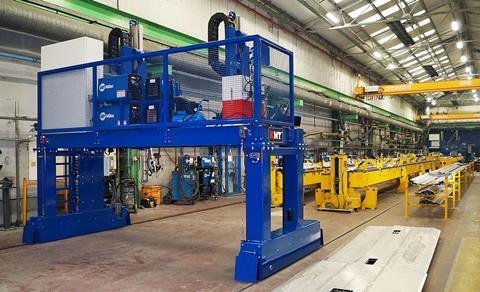 UK: KM Tools has supplied Bombardier Transportation's Derby factory with a custom welding gantry for the production of rolling stock bodyshells.
Bombardier required a new gantry that closely matched the ones already operational, so KM Tools reverse engineered a new machine to the required specification and with software and a user interface almost identical to other machines to ensure operator familiarity.
Train body sections are held in jigs ready for welding by the overhead gantry which has two heads passing along the length of each seam. Once one side is welded, the jig is rotated 180º and the process repeated for the opposite side.
'We are primarily a machine builder, working with our customers to provide specialist equipment to support OEM production lines', said Adrian Degg, Engineering Director at KM Tools. 'We had previously supplied a wide range of jigs and fixtures to support Bombardier's production activities, so when the time came to add a new welding gantry at the facility, we were ready to offer a solution.'