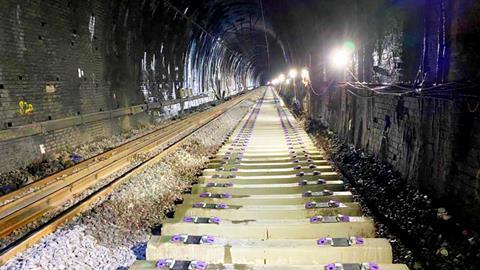 UK: Network Rail has taken advantage of reduced travel demand during the coronavirus pandemic to close a section of the West Coast Main Line between Rugby and Milton Keynes which Gus Dunster, Executive Director of Operations at Avanti West Coast, said was 'a notoriously difficult section to maintain due to the number of trains that use it every day'.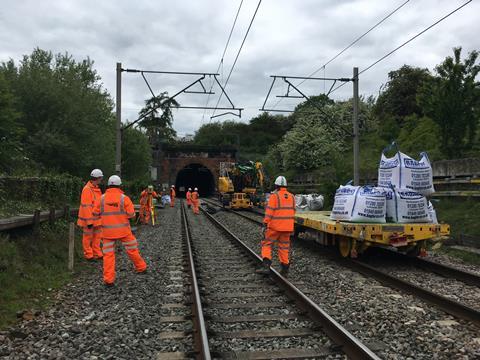 Around 250 tasks were undertaken over two weeks to May 18 This included track renewals, waterproofing and drainage works in the 183-year old Kilsby Tunnel. This has enabled running speeds to be restored to 175 km/h, which will save Avanti West Coast a total of 82 min of delays every day.
Other works included replacing and maintaining signalling cabling and equipment, maintaining electrification equipment, track renewals, structure inspections and vegetation management.
'In normal times it would have been impossible to close this entire section of railway for an upgrade of this scope and scale', said James Dean, Network Rail's West Coast Mainline South director. 'I'd like to pay a huge credit to our train operators and industry colleagues for enabling us to carry out this work at short notice and get the railway in the best possible shape as the country recovers from the coronavirus pandemic.'