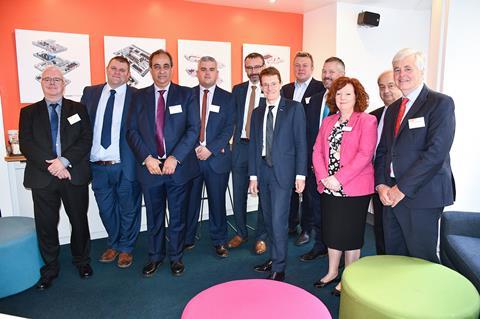 UK: The West Midlands Grand Rail Collaboration, which aims to facilitate closer working to improve passenger services, has been launched by five train operating companies, Network Rail, the West Midlands Rail Executive, Vintage Trains, Transport Focus and the Birmingham Centre for Railway Research & Education.
'Rail patronage in the West Midlands is growing faster than the rest of the UK and we are investing massively in the railways and delivering new stations', said Mayor of the West Midlands Andy Street, who is the independent chair of GRC for 2019-20. 'However, we know problems still exist, particularly around punctuality and capacity, which is why I have launched GRC so we can tackle these challenges effectively. Quite simply, this new collaboration is about putting the customer first – whether that is with reliable and dependable services that meet where and when people want to travel, or by creating stations that are modern, clean, and accessible to all.'
Managing Director of West Midlands Trains Jan Chaudhry-van der Velde said the collaboration 'enables us to work together across the industry to provide the West Midlands travel to work area with a joined-up, easy to understand rail network. By coming together with partners in this unique way we can be more proactive and make a real impact as the West Midlands transport network continues to grow.'
GRC has already established a performance task force to address train reliability and punctuality issues. BCRRE is to develop a 'digital twin' model of four key routes in the local rail network, to assist with operations planning and disruption management, allowing alternative strategies to be simulated.