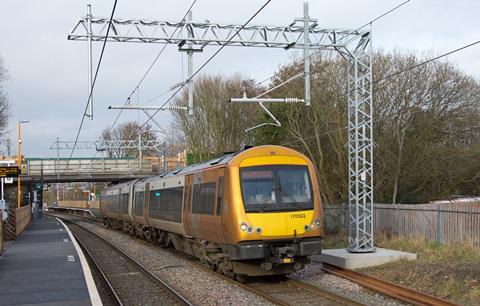 UK: After months of poor performance on the Chase Line between Birmingham and Rugeley Trent Valley, West Midlands Trains has decided to split the route from its Birmingham – London Euston service with effect from the May 2020 timetable change, effectively restoring the service that operated until May 2019.
Combining the Chase Line and London services at Birmingham New Street was intended to provide through services to and from the capital, but in the event proved difficult to operate. 'We tried something innovative, it was bold, but unfortunately it hasn't worked', admitted WMT's Head of Corporate Affairs Francis Thomas. 'We have imported risk from the West Coast Main Line onto the Chase Line and that's not sustainable.'
With services regularly being turned back short at Hednesford, WMT established a task force to review performance. 'We faced a two-part challenge', Thomas explained. 'Firstly from how busy the WCML is, and secondly train regulation through the Coventry corridor. It's been made more acute by the operation of these long distance services, particularly when you've only got a short turnround at Rugeley.'
From the May 2020 timetable recast, WMT services from Rugeley Trent Valley will run alternately to Birmingham New Street and Birmingham International, maintaining the half-hourly interval on the Chase Line. WMT will continue to run a Walsall to London service, as required in the franchise specification, while the London – Birmingham – Liverpool trains will continue to run through as they do at present.
Dwell times at Birmingham New Street are being examined to assess whether lengthening these would give the service more resilience. However, as Thomas points out, 'the original plan for May 2019 was to decongest New Street and we have to be careful not to re-import that. We're looking at a number of issues and asking "how do we de-risk the long distance running?" If it had been possible to do it for the December 2019 timetable change we probably would have done so, and if we can do more before December we will.'