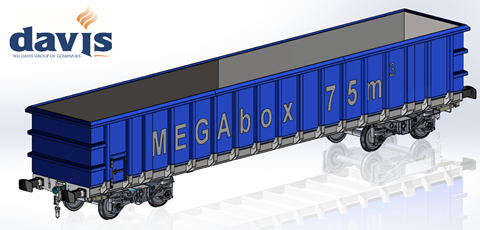 UK: Beacon Rail Leasing has awarded WH Davis a contract to rebuild 46 HHA coal hopper wagons into MegaBox box wagons. Beacon Rail CEO Adam Cunliffe said the contract is 'a significant development and represents the close co-operation and agility of both companies'.
The MegaBox design has been developed by WH Davis's in-house team. It offers a capacity of 75 m3, which is 25% more than most conventional UK box wagons and will enable the vehicles to be used to transport a broader range of products.
The rebuilding of the wagons is to be conducted at WH Davis's site at Langwith Junction during 2021.
Derby-based Yellow Rail will manage the removal and overhaul of components including bogies, wheelsets and brakes which are to be reused, and the recycling of the existing HHA body.
'We are delighted to have the opportunity to support WH Davis on this high-profile project, which demonstrates the sector's ability to adapt its assets to changes in market needs', said Yellow Rail Managing Director Andy Kevins when the order was announced on March 10.
The approvals process will be handled by TÜV UK.
'This project shows the depth of experience, knowledge and skills available in the UK rail freight sector', said WH Davis Group's Engineering Director Les Bryant. 'Using the ability of a broad range of UK suppliers with specific skills continues to help the UK economy, along with the bonus that the use of recycled components helps to reduces the carbon footprint against the production of totally new wagons.'