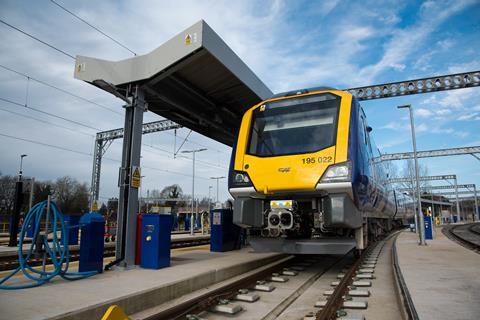 UK: Northern and Network Rail have inaugurated a £46m rolling stock stabling and light maintenance facility at Wigan Springs Branch, alongside the former diesel locomotive depot now used by Network Rail.
The four-road depot provides Northern with an additional base for its expanding fleet, adding operational flexibility and enabling trains to be serviced closer to the routes where they operate.
Northern plans to service 24 electric and eight diesel multiple-units each night, with the depot expecting to handle units of classes 150, 156, 158, 195, 319, 331 and, from 2021, Class 323. The depot is also one of the bases for driver training on the Class 319 EMUs rebuilt as electro-diesel Class 769 Flex units.
The construction work involved 3 800 m of new track, 14 turnouts, seven buffer stops, 42 overhead electrification structures and more than 2 600 m of overhead line equipment on the three of the four roads which are electrified. There is a washing plant and facilities for internal cleaning.
The depot has created 18 jobs, and the buildings at the site have been refurbished to provide accommodation for train crews.
Work is due to be carried out to lengthen bay platforms at the nearby Wigan North Western to handle longer trains running into the station at the start and end of their diagrams.
At the official opening of the depot on February 7, local MP Yvonne Forvargue praised the way the rail industry had worked with local residents to minimise the impact of the construction. 'This is a real economic boost for Wigan and the rail network in the north will benefit as a result', she said. 'Its success will ensure a much better passenger experience as new trains are rolled out over the coming months.'